Here are the best tweaks compatible with the Electra jailbreak that aim at increasing the usability of your iPhone/iPad.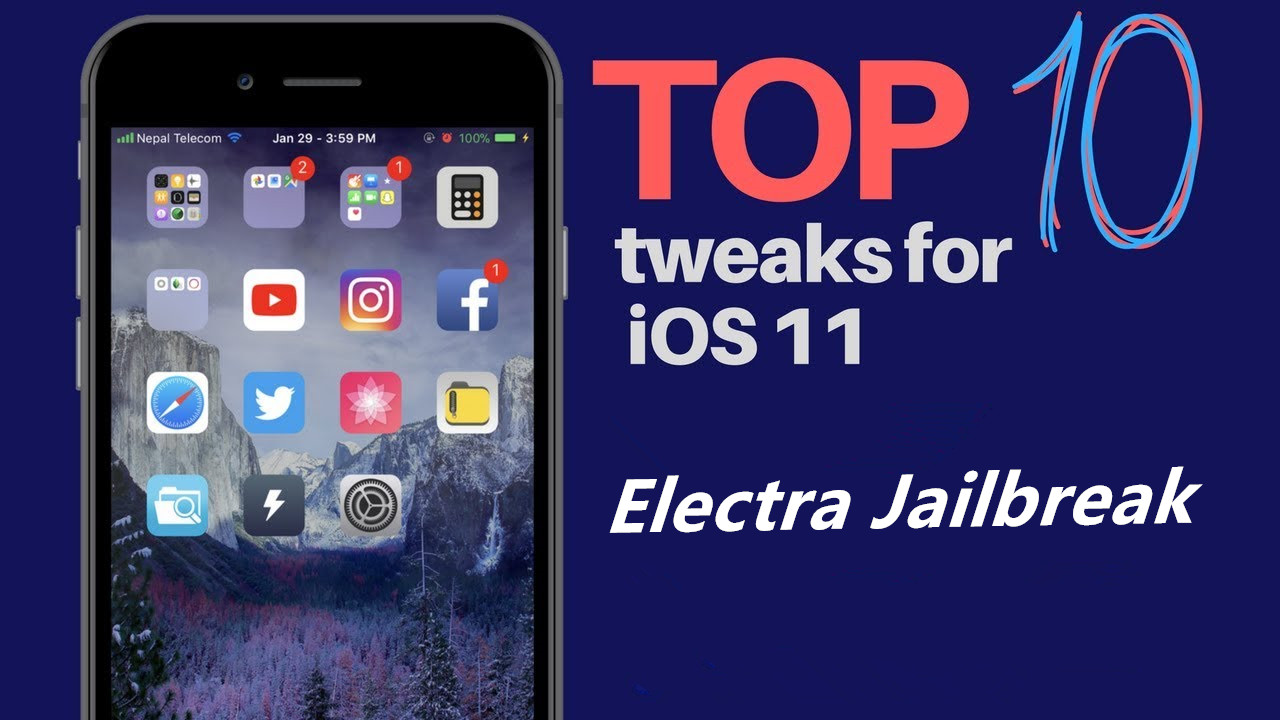 1. CircuitBreaker
This could be considered as an all-in-one package. Circuit Breaker contains a '.deb' package installer, and an overall Electra jailbreak management utility tool.
CircuitBreaker can also be considered as an alternative to iCleaner as it provides an option to rebuild the uicache, which is what iCleaner does to clean up the filesystem. Uicache flushes all the cached files into the dump. This empties some space into the device as well as helps to remove harmful cache files.
How to install CircuitBreaker on elecra jailbreak?
2. ActualBattery
This tweak lets you see your iPhone's actual battery percentage and not the one that is shown by the memory. Ever wondered why sometimes your iPhone automatically switches off even when there is around 3-4% of battery left in it. Well, it is because your iPhone doesn't show you the actual battery percentage.
Download: ActualBattery.deb
3. LetMeKnow
Have you ever had an awkward situation where you dialed a number and waited for it to connect only to know that it had been connected a while ago and you weren't aware of it? Well, I've been in many. But no more. Cause this tweak sends a vibration through the phone to make the user aware that the call has been connected/disconnected. Isn't it extremely useful?
Download: LetMeKnow.deb
4. LetVideosRotate
It is super annoying when the screen doesn't rotate while watching a video. So, you have to toggle the rotation lock on. But after you've done watching the video, the screen rotation still bugs you as you forget that you turned it on. There's a solution to this. Install 'LetVideosRotate' and you will be carefree. This tweak enables rotation only when watching a video and turns it off automatically as soon as the video gets over.
Download: LetVideosRotate.deb
5. AppPercent
This tweak notifies you the progress of your ongoing app download replicating Android's similar feature. It sends you a notification if an app starts/finishes downloading. It also shows the percentage of the app download in the app drawer. This makes downloading apps from the App Store a lot more convenient.
Download: AppPercent.deb
6. CanYouLikeNot
This tweak, having a pretty long name is indeed very useful. It removes the passcode validation screen after you respring your device. As for jailbreakers, respringing is a task that has to be performed most often. Although, having to enter your pin each time you respring is kind of annoying. Use this tweak to remove that validation and respring without annoyance.
Download: CanYouLikeNot.deb
7. DetailedCellularUsage
As clear as its name suggests, this tweak shows more data in the cellular usage page in settings. For example, you can tap on to system services to see exactly which services are eating up your data, with added data of hidden services. You can also tap on the uninstalled apps tab which is usually untappable. But this tweak shows extra info on that as well.
8. FingerTouch
This tweak lets you just tap (not press) the TouchID sensor to perform regular actions such as going to the home screen, opening the multitasking panel etc. Although, it is sad that iPhone X users don't have it. Well, it's certain. So dumb of me!
Download: FingerTouch.deb
9. Keyboard Accio
This tweak enables the keyboard to switch to the only two predefined keyboards rather than cycling through all the keyboards set. Upon tapping the globe key on the keyboard, the keyboard switches itself to the next keyboard that's in the line. And if you have to return to the previous keyboard, you have to tap the globe key numerous times to bring the keyboard back, which is kind of annoying as well as time-consuming.
So, Keyboard Accio lets you predefine any two keyboards and by tapping the globe key, you'll be able to only switch between those two keyboards rather than going through all the keyboards in the list.
Download: Keyboard Accio.deb
10. Portrait Lighting Enabler
Apple introduced a feature for its new iPhones launched last September called as portrait lighting. It allows you to simulate studio lighting using the advance front and back cameras on the iPhone 8 Plus, and the iPhone X.

Source: the8bit