Apple Inc. shares need a 1.4% bump on Friday or else they'll have their worst week ahead of a major product launch since the original iPhone was released back in 2007, amid less-than-stellar reviews on its new slate of product offerings.
Apple AAPL, -1.72% shares closed down 1.7% at $153.39 Thursday, the day before the iPhone 8, Apple Watch Series 3, and Apple TV 4K are available to the general public.
For the week, shares are down 4.1% as of Thursday's close. Unless they rally by Friday's close, that will make it the worst performing week of Apple's stock prior to an iPhone or Apple Watch launch.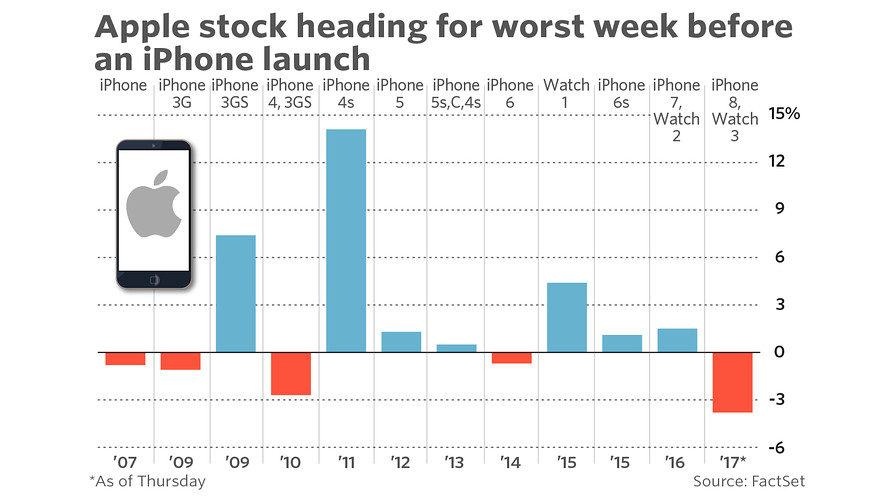 On Friday, Apple shares will need to close up at least 1.4% at $155.56 to match their worst weekly stock drop prior an iPhone release, when shares suffered a 2.7% decline in the week before the release of the iPhone 4 and iPhone 3GS back in June 2010.
Shares are down 5% from prior to Apple's Sept. 12 event announcing its new offerings, and are down 6.5% for the month of September, on track for their worst monthly performance since April 2016.
Apple shares are also heading for their worst performance from an iPhone announcement to its release in more than four years, according to Dow Jones data. Since the iPhone 8 and iPhone 8 Plus were announced until Thursday's close, Apple shares have declined 4.6%. Back when the iPhone 5s and 5c were released in September 2013, shares had declined 5.5% from when the phones were announced.
Source: marketwatch