After three months of beta testing, iOS 13 is now available to the public. There are plenty of new things to try out across the board, so read on as how to download iOS 13.
Apple's iOS 13 biggest new addition is Dark Mode, which allows everything from iMessage, Photos, and Settings to switch to a much darker theme throughout the operating system.
The official release of iOS 13 supports these device upgrades:
iPhone: iPhone XS, iPhone XS Max, iPhone XR, iPhone X, iPhone 8/8 Plus, iPhone 7/7 Plus, iPhone 6s/6s Plus, iPhone SE;
iPod Touch: iPod Touch 7
According to Apple's official news, iPadOS will be released on September 25.
iOS 13 Official Version Update Method:
To avoid unforeseen circumstances, be sure to back up important data and materials in the iDevice before upgrading.
1. For users who are still on iOS 12 or earlier, check the update in the iPhone Settings - General - Software Update.
2. If you have installed the beta version of iOS 13, you can remove the test description file in "Settings" - "General" - "Profiles", and restart the iDevice to update the Public iOS 13.
3. Users who have upgraded to iOS 13.1 beta version, because the version is higher, can not be directly updated to the official version of iOS 13 on the iDevice, you need to downgrade to Public iOS 13.
In addition, users using the iOS 13.1 beta can also wait for the release of the official iOS 13.1 release at the end of September.
This iOS 13 is now available on 3uTools, here are a few steps to install it on your iDevice.

Step 1 Connect your iDevice to PC with an original USB cable and launch 3uTools.

Step 2 Go to Flash & JB → Easy Flash, select firmware iOS 13. If you want to update with data, please check the box "Retain User's Data". There will be a pop reminder after you click "Flash", please read it with caution.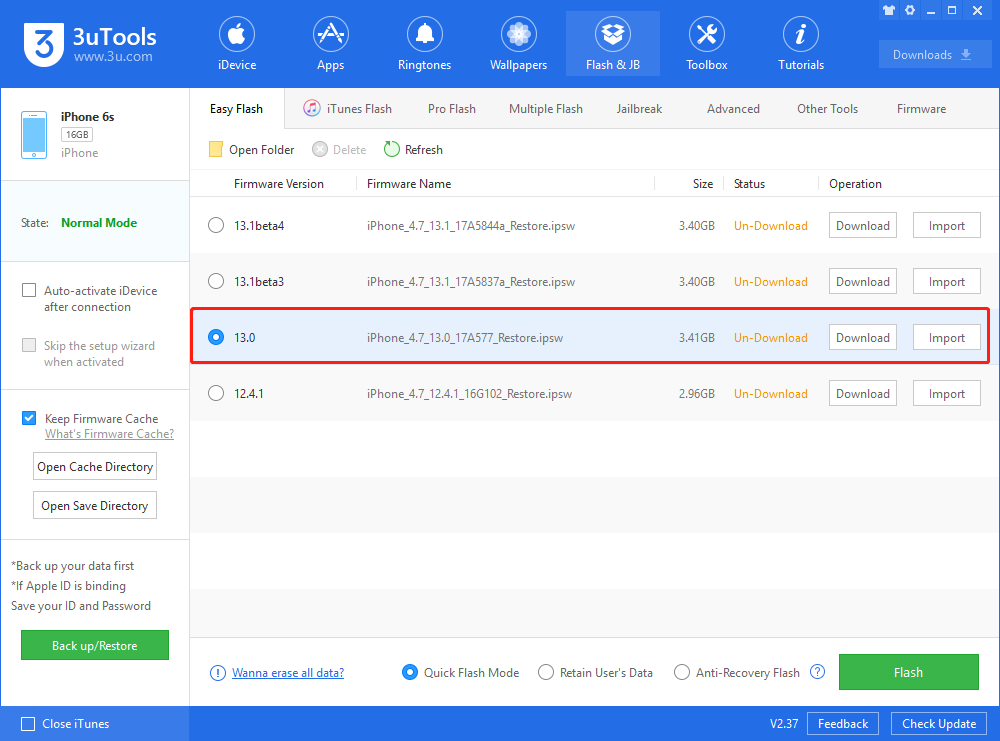 You are recommended to back up your iDevice regularly in case of data loss.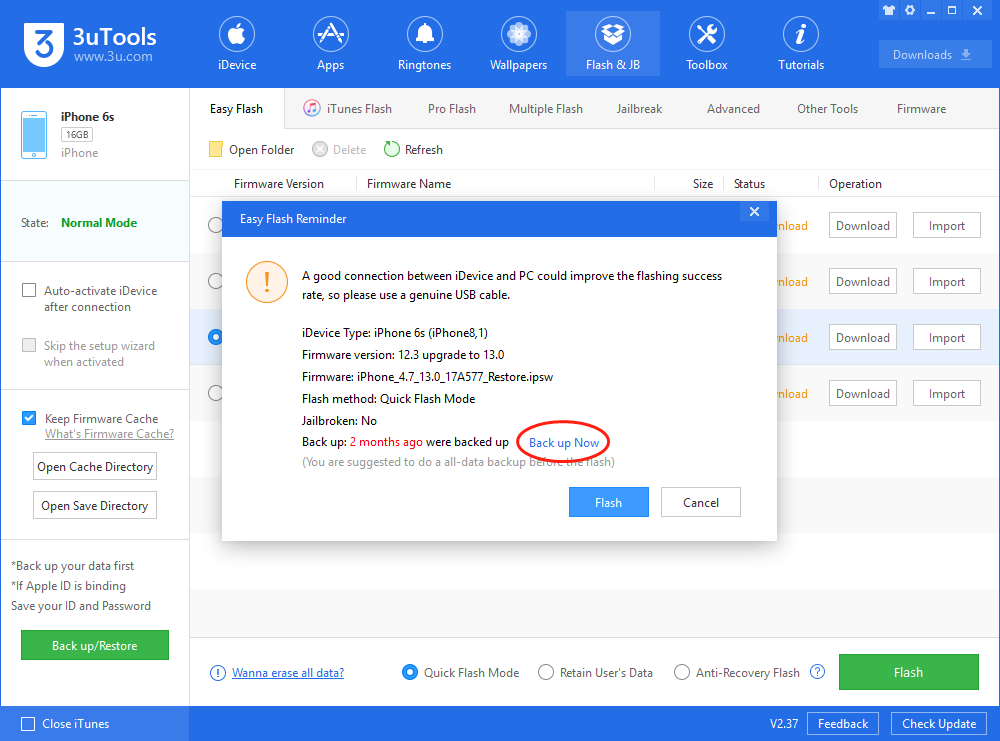 Step 3 Keep the stabilization of network and USB connection while flashing, wait patiently for around 5 to 10 minutes. Your iDevice will be updated to iOS 13 after reboot.