Beginner security researcher GeoSn0w just released a work-in-progress jailbreak for iOS 11.2-11.3.1, Osiris, but it is only for developer.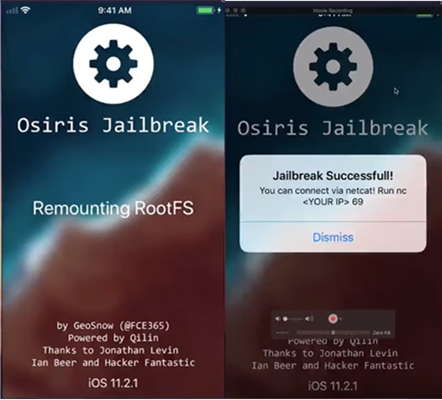 What is Osiris
Osiris is proof-of-concept jailbreak for iOS 11.2-11.3.1 firmware. It is developed by security researcher GeoSn0w for learning and development purposes.
Auxilium Development Team members, M4cs and MidnightChips, are also a part of this project and are currently involved in testing.
Osiris utilizes Ian Beer's MPTCP exploit and Jonathan Levin's QiLin jailbreak toolkit. It also requires multiple attempts for the exploit to run properly.
Here's a quick rundown of what's working and what's not –
Osiris triggers the exploit properly and achieves tfp0 (root access) on iOS 11.

Apart from root access, Sandbox escape and AMFI codesign patch are also functional.

System updates (OTA updates) become non-functional once you install this tool.

Remounts the root filesystem as R/W on iOS 11.2.6 and below versions. Once Jonathan Levin updates QiLin toolkit, it will achieve R/W access on iOS 11-11.3.1 as well.

Cydia and Substrate are not a part of this tool. Moreover, the developer isn't too keen on implementing these components in future versions.
Source: GeoSn0w [Github]