The first teardown analysis of the iPhone X revealed that its parts amount to about $357.50 in total for Apple when buying in bulk, and afterwards IHS Markit came up with a very similar number - $370.25 - including the box contents, and costs of assembly. Now, Statista has made a chart demonstrating the ever-rising bills of materials for subsequent iPhone models with the introduction of new features and designs, which led to price increases for the end users, too, culminating with the $999 iPhone X.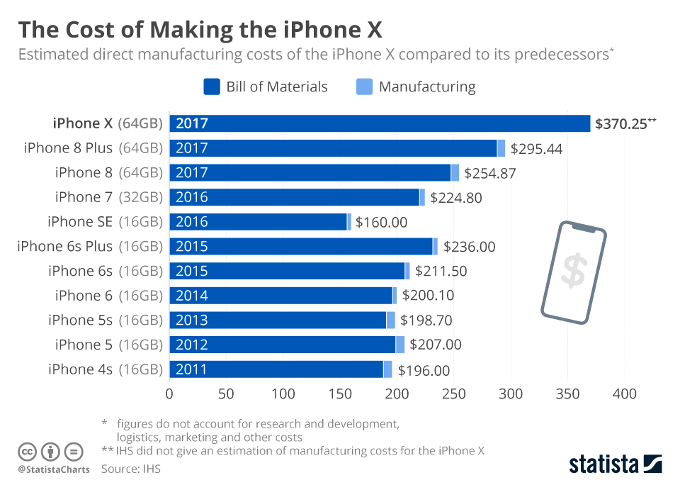 The most expensive part in the newest iPhone is Samsung's 5.8" flexible AMOLED panel and its accompanying paraphernalia like the Force Touch sensor, polarizer and cover glass. The package amounts up to the whopping $110 for the privilege to turn blueish at an angle. We kid, but about $70 of this tag goes directly to Samsung, which might explain a part of its record-breaking profit announcement.
Surprisingly enough, though, the next most expensive part that goes into an iPhone X production is not the dual camera set, the battery pack, the memory, or the blazing fast Bionic chipset, but rather the rear enclosure. The reinforced glass and the new stainless steel frame cost much more than the aluminum alloy unibody that Apple used so far in previous iPhone iterations, to the tune of $61 to assemble and polish in two colors. Well, the X might cost more to assemble than the iPhone 8, but Apple also asks more for it, so the hefty margin from the "all-screen" handset might lead to a record-breaking quarter for Apple, too.
Source: phonearena