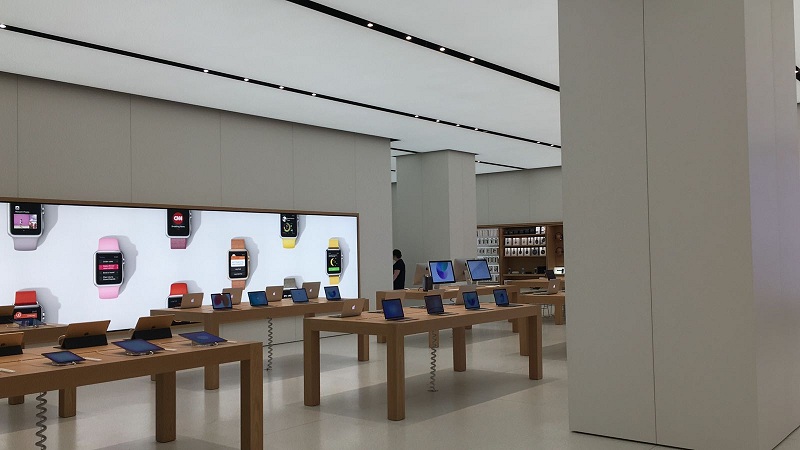 Apple apm Hong Kong opened on Sep. 22
Apple is rumored to launch its first retail store in Korea, with the location likely to be the popular shopping street of Garosu-gil in Sinsa-dong, southern Seoul, real estate documents show.


A certified copy of the real estate registration submitted to the Gangnam District Office reveals Apple Korea signed a 20-year contract starting from March this year for a 526-square-meter (5,660-square-foot) space on the quarter-mile tourist destination of Garosu-gil.

Sources say the landlord obtained approval to build a single, five-story building on the land but recently submitted a request to the district office to change the design to one that would accommodate an Apple retail space.

The Apple Store is likely to take up all or part of the building. The site is currently behind scaffolding with a notice of construction under way.

Apple Korea refuse to confirm whether it was opening a new store.

Speculation surrounding Korea's first Apple Store emerged after the Korean operation of the American tech giant posted a recruitment notice on its job website on Aug. 1 for an AppleCare Area Manager for Korea. The manager will "lead a team of AppleCare's At Home Advisors who are responsible for providing world class support to our customers in Korea," the notice said.

Customers in Korea have long complained about the subpar service offered by Apple, even though the iPhone was introduced here seven years ago. In-person service is currently provided by authorized resellers rather than by Apple itself.
Korea's smartphone market is currently dominated by Samsung and LG, which together share 80% of local sales. Apple managed to take a 25% of the market share at the year of 2014 with iPhone 6 & 6 plus, but retreated to less than 10% on June this year.
A new retail location in the region might mean Apple is ready to fight back to the Samsung's home turf. Backed by the recent Samsung Note 7 crisis, Apple takes more advantage to sell more iPhone 7 than expected, and finally reach to 100 million by the end of this year as suggested by analyst.