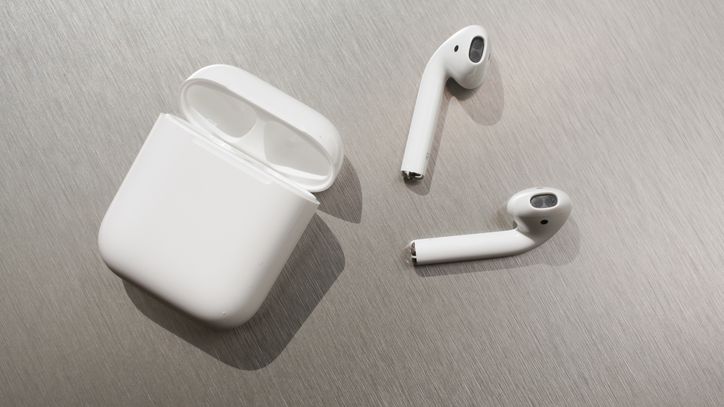 Apple's AirPods are convenient and wireless. But if you've found yourself with a pair and are still wondering how to make the most of them, including how to avoid losing them, we have your back.
It's pretty easy to pair them with your Apple products and start listening to music, but there's a lot more to know about AirPods if you want to make the most of them. Here's what you need to know.
1. Yes, you can pair them with non-Apple products
Notice that small, flush button on the back of the charging case? That's what you'll use to pair AirPods to an Android device or anything else that doesn't work with Apple's W1 chip .
To start pairing to anything new, put the AirPods in their case, then flip the lid up and press and hold the small button on the bottom rear of the charging case until the little LED light starts pulsing white. They should then show up in any Bluetooth-pairing settings on an Android phone, or computer, or TV. Complete instructions can be found here .
2. To save battery life, keep one in and keep swapping buds
I've never run out of AirPod battery life in a single day, but if you're a power-user making lots of phone calls, you might find them running low. One AirPod can work on its own as a Bluetooth headset. Keep the other in the case to charge, and then swap as needed. The other bud takes over seamlessly.
3. Listen to stereo streaming with one bud
If you want to listen to a livestream while doing other things casually, pop a single bud in while the other is in the case. It'll pump a stereo signal into one bud. Otherwise, with both AirPods out, it'll only get one ear's worth of stereo.
4. Check the battery on your iPhone
You have a couple of options when it comes to checking the battery status of your AirPods and the charging case.
You can either open the charging case next to your iPhone, which should prompt your phone to display a popup with battery status. Or, you can add the battery widget to Notification Center's Today panel using the instructions in this post . Keep in mind, the Battery widget will only include AirPods if you are actively using them.
5. Check the battery status on an Apple Watch
If you own an Apple Watch , here's a cool trick: When using AirPods, open Control Center on your Apple Watch and tap the battery icon. In addition to displaying battery stats for your watch, you will also find stats for your AirPods.
6. Change name of AirPods
There's no dedicated app for altering settings and customizing your AirPods. Instead, you'll need to do it through your Bluetooth settings.
Just go to Settings > Bluetooth . Then tap on the "i" icon next to your AirPods' name.
7. Give Siri the boot
While viewing your AirPods' settings, you can also change the double-tap function for either earbud. Once again, go to Settings > Bluetooth . Then tap on the "i" icon next to your AirPods' name. Tap on Left or Right to alter the functionality of each AirPod, or disable any double-tap interaction at all.
8. Use AirPods on a Mac
If you want to use AirPods to listen to all audio coming from your Mac, you will need to select it as an audio output device.
To do that, click on the Bluetooth icon in the menu bar and select your AirPods > Connect.
Alternatively, you can use the AirPlay icon in iTunes to select AirPods to stream music from your Mac to your ears. Though, my experience with connecting to AirPods through AirPlay in iTunes has been hit or miss; mostly miss.
9. Customize controls on a Mac
I'm not sure why I never tried to adjust AirPod settings on the Mac before. I suppose it's because my primary device for using them is my iPhone. Nonetheless, a post on 9to5Mac details the process for adjusting your AirPods settings for controlling playback and using Siri.
With your AirPods connected to your Mac, go to System Preferences > Bluetooth . Click Options next to your AirPods, and use the drop-down menu to adjust settings to your liking.
10. Sharing, with limitations
What happens when someone else tries using your AirPods? A message letting them know the AirPods aren't theirs shows up. Of course, he or she can pair the AirPods to an iPhone by tapping Connect , but it's nice to know they can't sneak in some listening time on your AirPods without you knowing.