Apple logo Could be used for Notifications on Future iPhones
2019-09-27
623
Posted by 3uTools
Future iPhones could feature electronically-controlled decorative elements on the back of the case, giving users a way to further customize their smartphones, such as by changing the color of the Apple logo, as well as providing a way to alert device owners to notifications or other events.
In a patent application published by the US Patent and Trademark Office on Thursday, Apple seems to be considering the possibility of giving users more options, by adding color-changing elements to the back of their devices.
The patent application for "Electronic Devices with Adjustable Decoration" effectively describes how a decorative element can be added to a casing. This could take the form of a company logo, like the famous Apple, or another piece of trim along the edge.

The decoration could consist of a transparent layer, which can include an adjustable optical component that changes how things seen through the layer appear. This can include the tint, a haze layer, a mirror layer, a thin-film interference filter using a dielectric stack, and color filters, giving a wide variety of different effects and opacities.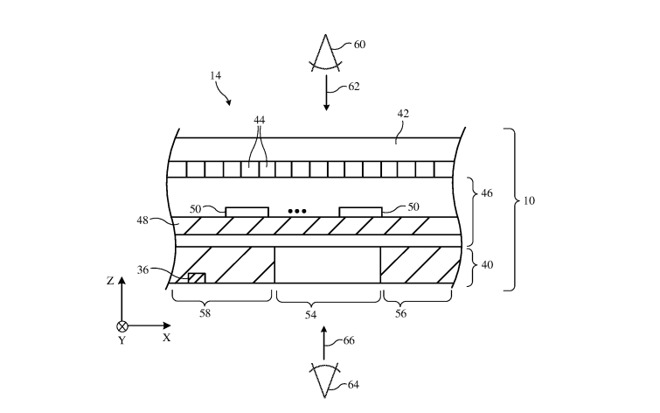 Apple files many patent applications on a weekly basis, but while the filings show areas of interest for Apple's research and development efforts, they do not necessarily translate into functions in a future product or service.

The idea of personalizing a device isn't new, as evidenced in other patent filings for the Apple Watch.

Source: Appleinsider

Related Articles

Apple History: Rainbow Apple Logo Gets a Modern Overhaul Apparent iOS 12 Beta Bug Causes Never-ending Notifications to Update Software Did Your iPhone X Middle Frame Paint Peel Off? Only 1 in 5 People can Accurately Draw the Apple Logo iPhone X Won't Reveal your Lock Screen Notifications to Anyone Else Apple Updates Apple Logo Trademark to Cover Tourism, Tours And More iOS 12 concept proposes grouped notifications, Android-style widgets & fantasy wish list items Chinese Authorities Shut Down Elaborate Fake Apple Service Center in Beijing