Apple's Tim Cook Takes Close Seat to Donald Trump at Tech Summit
2016-12-15
1098
Posted by Reposted
As anticipated, Apple CEO Tim Cook was among a number of tech executives who attended a summit with U.S. President-Elect Donald Trump on Wednesday, securing a close seat on the 25th floor of Trump Tower in New York City.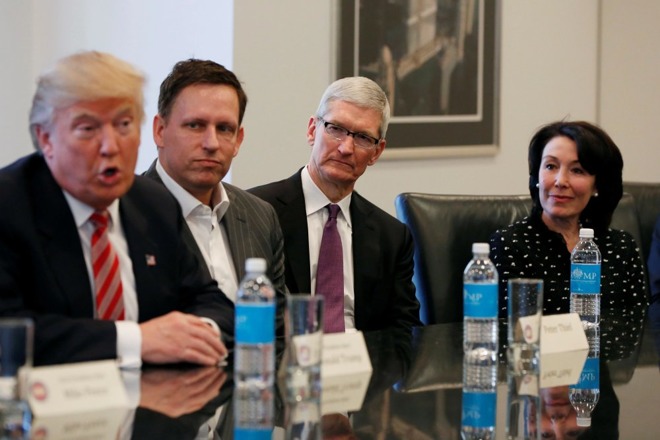 Cook found himself two spots away from Trump, blocked only by well-known investor, Facebook board member and Trump supporter Peter Thiel. Other tech executives present included the likes of Alphabet's Larry Page and Eric Schmidt, Amazon's Jeff Bezos, Facebook's Sheryl Sandberg, Microsoft's Satya Nadella, IBM's Ginni Rometty, and Tesla's Elon Musk.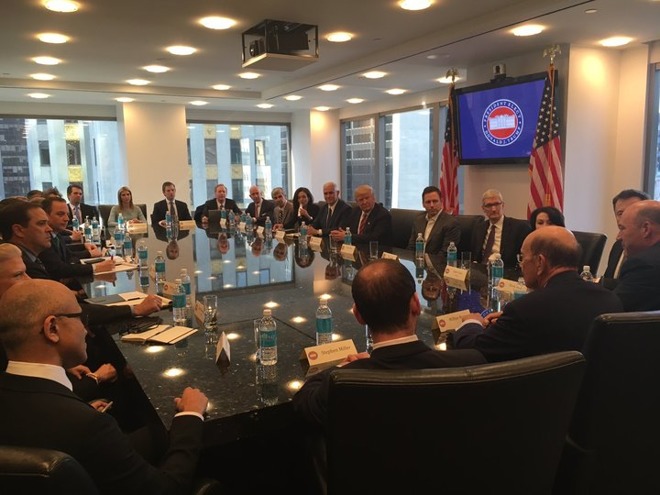 Also in attendance were three of Trump's children —Eric, Ivanka, and Donald Jr. —and Vice President-Elect Mike Pence.

While most of the details of the summit are still secret, Trump promised the room's business elite that he would "make fair trade deals," and "make it a lot easier for you to trade across borders" with fewer restrictions.

A number of the people present have been openly critical of Trump and/or his political positions. Trump, in fact, attacked Apple during his election campaign, arguing that it should bring manufacturing back to the U.S., and calling on supporters to boycott the company over its refusal to write a backdoor into the iPhone of San Bernardino shooter Syed Rizwan Farook.




Source: appleinsider




Related Articles

Apple Removes iCloud Activation Lock Status Tool From Website macOS High Sierra 10.13.2 Beta 4 Now Available Rumor: Apple Blocks Activation on iOS 9.0-9.3.5 Firmware Apple Still Signing iOS 11.3 Beta 5/6, Downgrade to It to Jailbreak Your iPhone iOS 10.3 Jailbreak / iOS 10.3.1 Jailbreak How to Download Apple's Official iOS IPSW with One Simple Step? Apple iPhone 7 Plus with Leaked Photos and iPhone 7's Packaging Box Is that An iPhone 8 in Tim Cook's Pocket?