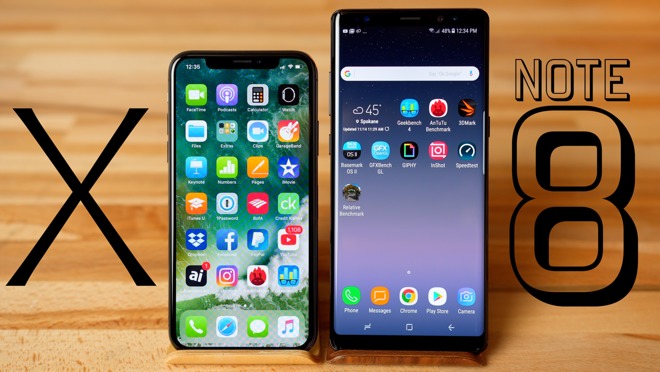 The truth is, both devices are more than powerful enough for our daily needs, but since we got our hands on both of them, AppleInsider decided to run some benchmarks to compare the two devices.

As far as the hardware goes, the iPhone X's A11 Bionic processor has six cores total, with two high performance cores, and four efficiency cores. It also has a three-core graphics chip and 3GB of RAM.

The Note 8 has an eight-core processor, with four high performance cores and four more efficient cores. It also has 6GB of RAM —twice as much as the X. It's worth noting that the Note 8 is pushing more pixels, which takes more power to render.

More cores doesn't always mean more performance. There are a limited amount of apps that can actually put up to six and eight cores to use. A lot of apps actually use one or two cores, with apps only slowly transitioning into using more, efficiently.
Starting with the Antutu benchmark, The iPhone X comes in at around 31 percent faster than the Note 8. In Basemark OS 2, the iPhone X is 17 percent faster.

In 3DMark's Sling Shot Extreme benchmark, the scores were very similar, with the Note 8 gaining a small advantage.

Let's move onto a couple browser benchmarks. Keep in mind that it's not purely based on the device, but also on the browser. Chrome is now the default for the Note 8, and of course Safari remains the standard for the iPhone X.

In Antutu's HTML5 test, the iPhone X was 62 percent faster than the Note 8.

The iPhone X completely destroyed the Note 8 in the Jetstream 1.1 javascript benchmark. This may be due to optimization issues with Chrome, so don't give the iPhone X by itself too much credit.

Now let's finally get to the popular Geekbench 4 benchmark. For the single core test, the iPhone X blew the Note 8 out of the water, with over double the score.

Apple's iPhone line is known for strong single-core performance, and since most applications benefit more from powerful single cores than multiple weaker cores, even dual-core iPhone's were able to keep up in performance when Android devices were already moving up to four and more cores.

Moving on to the multi-core test, the iPhone X is actually 53 percent faster than the Note 8, even though the Note 8 has eight cores, compared to six on the iPhone X.

Finishing off with the GPU benchmark, the iPhone X was 59 percent faster than the Note 8, but that's using Metal on the iPhone. Keep in mind that even though the GPU shows that much of a performance boost, the more realistic Slingshot Extreme benchmark scores were similar.

Either way, both devices are extremely powerful, but these tests show that Apple comes out the clear winner.
Source: apple insider