Alleged iPhone 8 Schematic Depicts Dual-Lens Vertical Rear Camera, Hints at Wireless Charging
Another alleged iPhone 8 schematic is making the rounds today, shared on Twitter by several "leakers" who often share alleged leaked device images sourced from Weibo and unnamed tipsters. KK Leaks, OnLeaks, and Benjamin Geskin have all tweeted the image, which comes from an unknown source.

It is not clear if the schematic is legitimate, and we're at the point in the rumor cycle where it's difficult to separate what's real from what's fake, so it's best to view all current leaks with some skepticism.
While we're seeing different designs at the current time, there are several rumors that are consistent. The OLED iPhone is said to be similar in size to the 4.7-inch iPhone but with a display closer in size to that of the 5.5-inch iPhone, and almost all current rumors point towards a vertical dual-lens camera for improved images and perhaps some kind of augmented reality or 3D functionality.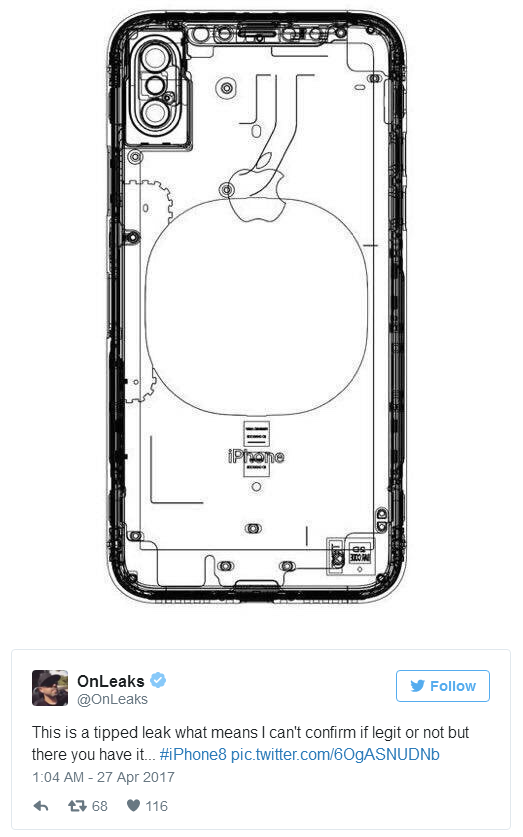 Not much has been said about wireless charging recently, but Apple is supposedly implementing some kind of inductive charging solution, and we can count on an improved A11 processor in the device.

Apple plans to sell the OLED iPhone alongside two standard iPhones with LCD displays, which are said to be similar in size to the existing iPhone 7 and iPhone 7 Plus. With many of the rumors focusing on the flagship OLED iPhone, not much is known about the other two iPhones and their specific design also remains unclear.

Recent rumors are suggesting the OLED iPhone may be severely constrained when it launches in September, so it could be difficult to get for several months. That's a common rumor that we hear every year ahead of the debut of a new iPhone, but the rumors, coming from trusted sources, are especially emphatic and dire this year, suggesting there's some truth there.

Source: macrumors