Apple Submits Third Model of Mystery 'Wireless Device' With Bluetooth & NFC To FCC
Apple recently submitted an unnamed "Wireless Device" to the FCC, a U.S. government agency that regulates communications, for the third time. The latest filing lists a model number of A1845, slotting in between A1844 in the first filing and A1846 in the second, but there are no new clues as to what the device could be.
Apple again requested permanent confidentiality for most of the documents in the filing, including photos, user manuals, and schematics, so the entry largely remains a mystery. Test reports completed by UL Verification Services reveal that, just like in the first two filings, the device has Bluetooth LE and NFC.

The model numbers A1844, A1845, and A1846 do not correspond to any existing Apple products. A regulatory label in the first filing showed the device has at least two slightly curved edges and two Torx screws, but Apple cropped the image in the second and third filings, likely to give fewer hints about its design.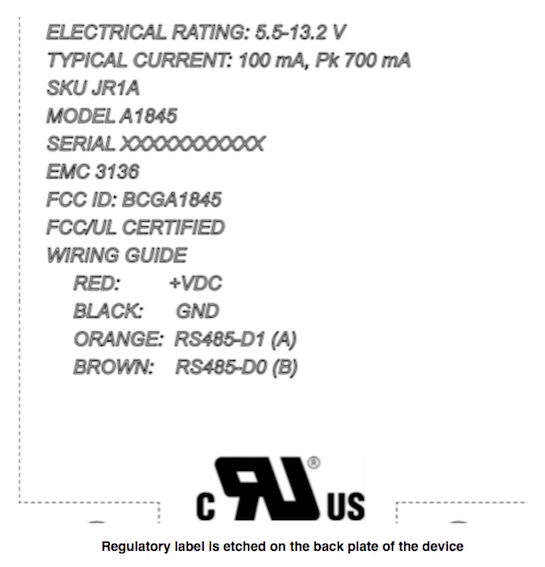 When the original "Wireless Device" was uncovered, there was some speculation that it could perhaps be a new Apple TV, but the prominent and lengthy regulatory text etched directly on the device, including a wiring guide, would be uncharacteristic of Apple to include on the exterior of a consumer-facing product.

The more likely explanation is that the wireless device is for internal use. It is possible that the device in question is something that is used in retail Apple stores, such as a product display unit or iBeacon-based equipment used to communicate with customer iOS devices, which Apple has filed with the FCC in the past.

The FCC filing could remain a mystery until the device is released, and we may not ever know if it does end up being a product for internal use. But it's fun to speculate, with predictions ranging from Apple's rumored Siri-enabled speaker to a smart thermostat given the RS-485 control signals listed.
Source: macrumors