Coolstar has surprised us by releasing Electra Jailbreak tool to jailbreak iOS 11 – iOS 114.1. In this tutorial, we will provide step-by-step instructions to jailbreak iOS 11.4.1 – iOS 11 using Electra Jailbreak on your iPhone, iPad or iPod touch.

Since iOS 11.4.1 was the last software update for iOS 11, it essentially means that Electra Jailbreak can jailbreak iOS 11 and all the iOS 11 software updates.
Supports all the iOS 11 versions including:
iOS 11, iOS 11.0.1, iOS 11.0.2, iOS 11.0.3
iOS 11.1, iOS 11.1.1, iOS 11.1.2, iOS 11.2,
iOS 11.2.1, iOS 11.2.5, iOS 11.2.6,
iOS 11.3, iOS 11.3.1
iOS 11.4, iOS 11.4.1
It does not support iOS 12 or later. We hope the recent exploits released for iOS 12 will help in developing an iOS 12 jailbreak. As always we will keep you posted as soon as there are any updates.
Supports all iOS 11 compatible iOS devices:
iPhone X, iPhone 8, iPhone 8 Plus, iPhone 7, iPhone 7 Plus, iPhone 6s, iPhone 6s Plus, iPhone 6, iPhone 6 Plus, iPhone SE, iPhone 5s
12.9-inch iPad Pro, 2nd generation 12.9-inch iPad Pro, 1st generation 10.5-inch iPad Pro, 9.7-inch iPad Pro, iPad Air 2, iPad Air, iPad
5th generation, iPad mini 4, iPad mini 3, iPad mini 2
iPod touch 6G
Make sure that you take a complete backup of your iPhone, iPad or iPod touch using iTunes.

Ensure that your device has enough battery level for the jailbreak process to complete.
Electra Jailbreak for iOS 11.0 – iOS 11.4.1 has just been released. We would recommend waiting for the initial issues to be resolved before trying it. However, if you want to take the risk you can follow the instructions below.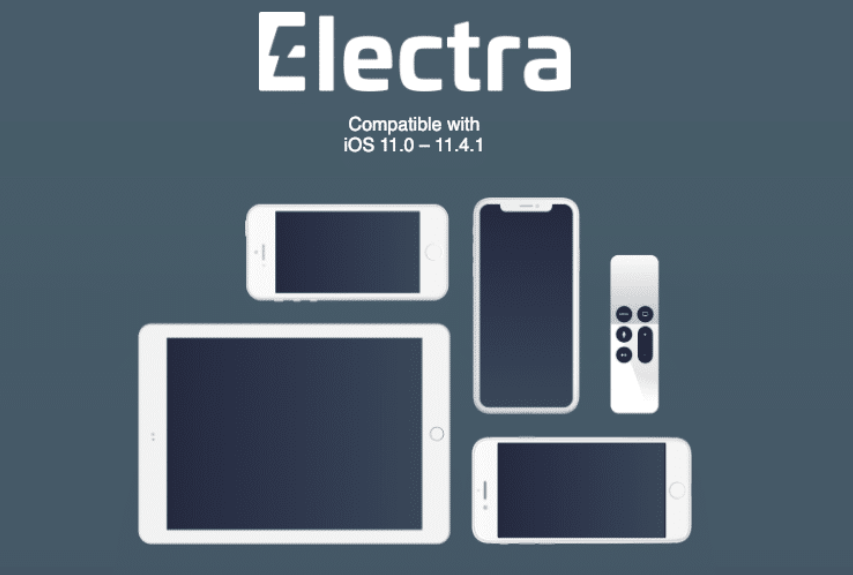 Here are the 5 easy steps you can follow to jailbreak:
Step 1: Enable Airplane Mode
Coolstar has recommended enabling Airplane mode before using Electra Jailbreak. Access the Control Center, and tap on Airplane toggle to enable it.
Step 2: Disable Siri
Coolstar has also recommended disabling Siri mode before using Electra Jailbreak. Launch the Settings app and navigate to Siri and Search, and tap on Listen for "Hey Siri" amd Press Home button for Siri or Press Side Button for Siri toggle and tap Turn Off Siri.
Step 3: Reboot iOS device
After enabling Airplane mode and disabling Siri reboot your iOS device.
After your device has rebooted, ensure that Airplane mode is still enabled, and also ensure Wi-Fi is disabled if it hasn't got disabled while enabling Airplane mode.
Step 4: Download Electra Jailbreak and Cydia Impactor
Download the latest version of Electra jailbreak IPA from the official website and Cydia Impactor from here on your Mac or PC. Cydia Impactor is available for macOS, Windows, Linux (32-bit and 64-bit).
Coolstar has released two versions of the Electra Jailbreak:
Uses multipath tcp exploit but requires an Apple Developer Account. It is supposed to have a higher success rate.

Uses vfs exploit but doesn't require an Apple Developer account.
If you have an Apple Developer account then we would recommend clicking on the Download (Dev Account) button to download Electra Jailbreak that uses the multipath tcp exploit.
If you don't have the Apple Developer account, click on the Download (Non-Dev Account) button to download Electra Jailbreak that uses the vfs exploit.
Do not download Electra jailbreak from mirror sites, as they could include malware.
Step 5: Install/Sideload Electra IPA using Cydia Impactor
Connect your iPhone, iPad or iPod touch to the computer with the Lightning cable to sideload the Electra IPA file.
Launch Cydia Impactor on your computer. It will detect your iOS device. Drag the Electra jailbreak IPA file you had downloaded earlier on to its UI. Enter the Apple ID and password for your Apple Developer account when prompted, and wait for Cydia Impactor to sideload the signed app on your iOS device.
If you hit provision.cpp:168′ error while trying to sideload Electra IPA, then check our post on how to fix 'provision.cpp:168' Errors While Using Cydia Impactor.
Step 6: Trust Developer Profile
Once Electra jailbreak IPA is successfully sideloaded. Launch the Settings app, and navigate to Settings > General > Profile(s) & Device Management (in some iOS versions it may just be General > Device Management).
Tap on the entry with your Apple ID under Developer app, then tap on Trust "". Tap on the Trust button. The status will change to Delete app.
Note: This step is not required if you've used an Apple Developer account.
Step 7: Run Jailbreak Process
Launch the Electra Jailbreak app from the Home screen, and tap the Jailbreak button to start the jailbreak process. It will go through 3 stages, the second stage can take a little longer. After the second stage, your device should respring. Please note that on iOS 11.3-11.3.1, the device will reboot twice and Electra will need to be re-run after the first reboot.
After your iOS device reboot's the first time, you should see Enable Jailbreak when you re-launch the Electra app.
Step 8: Wait for Jailbreak to Complete
After some time, you should see the Home screen. If you launch the Electra app again, it should inform you that your device is "Already jailbroken".
Congrats, your device is now jailbroken!
Cydia should also be installed on your Home screen. You should be able to launch it and install the jailbreak apps and tweaks. If you don't see Cydia on the Home screen, then launch Electra Jailbreak and keep trying until it works. You may need to try several times for it to work.
You can also disable Airplane mode and re-enable Siri after your iPhone, iPad or iPod touch has been successfully jailbroken.
Check our post if the Electra Jailbreak is not working and you are not seeing Cydia on the Home screen after using the Electra Jailbreak app. We have some tips that have helped several readers.
How Does Semi-Untethered Jailbreak Work?
Electra jailbreak is a semi-untethered jailbreak, which means that when your device restarts, the jailbreak will be disabled. You cannot use any installed jailbreak tweaks and Cydia will crash when launched. To re-jailbreak, simply open the Electra jailbreak app and perform Step 4 again to jailbreak again. Your device will then go back to the jailbroken state.
When Does the Electra Jailbreak App Expire & How Do I Renew It?
If you are installing the Electra app with your regular Apple ID, it will expire after 7 days. So you have to re-install it via Cydia Impactor to extend it for another 7 days. The steps are the same as outlined above. Also note that you need the Electra Jailbreak app only when you want to re-jailbreak your device after rebooting your iOS device, so even if it expires, the jailbreak will remain as is.
We will publish the post on iOS 11.4.1 compatible jailbreak tweaks as soon as possible. Until then we would recommend proceeding with caution while installing jailbreak tweaks.