Why iDevice Failed to flash Frequently?
2017-08-15
13418
Posted by 3uTools
Have you ever upgraded your iDevice to the latest iOS 10.2 version? Currently, a lot of Apple users have met with the problem that when they flash iDevice via iTunes, they couldn't flash their iDevices successfully. This tutorial is mainly introducing the reasons why iFans can't flash iDevice successfully.
iDevice need to be verified when you flash it using 3uTools or iTunes.
Firstly, it will verify the firmware, if you choose an unmatched firmware for your iDevice, it will give you a reminder that this firmware is not compatible with your iDevice. If Apple has stopped the signing of this firmware, it will show you unknown error 3194, because iDevices are only allowed to flash the latest firmware or the available firmware that hasn't been close by Apple.
Secondly, it will check your iDevice. For instance, it will check the A serial processor, baseband and underlying flash system. It will show you unknown error such as error4005, error4013, error4014, error40, error9, error6 if there is a problem exists in iDevice's processor, baseband or underlying flash system. And this kind of problem is mainly caused by chip short circuit.
If your iDevice has no problem, the progress bar is visible on your iDevice's screen. If iDevice has baseband issue, it will show you unknown error56, error53, error-1. iDevice will reboot after flash, and then it comes to activation page. It may show you another unknown error3014, this is caused by the disconnection between your PC and Apple server.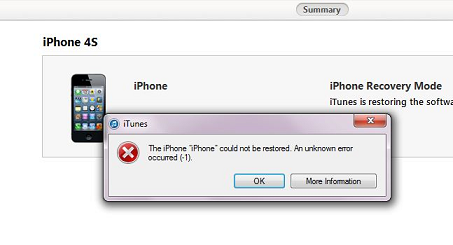 For each flash step, 3uTools or iTunes will check iDevice's state and send the related data to Apple server, if iDevice doesn't satisfy the flash situation, it may fail to flash.
How to solve the problem that iDevices failed to flash frequently?
* You're suggested to flash iDevice using 3uTools.
* Change different network environments/ PC/ USB cable.
* Ask help from Genius Bar, because their network is directly connected to Apple server, so it won't show any network issue or unknown error.

Related Articles