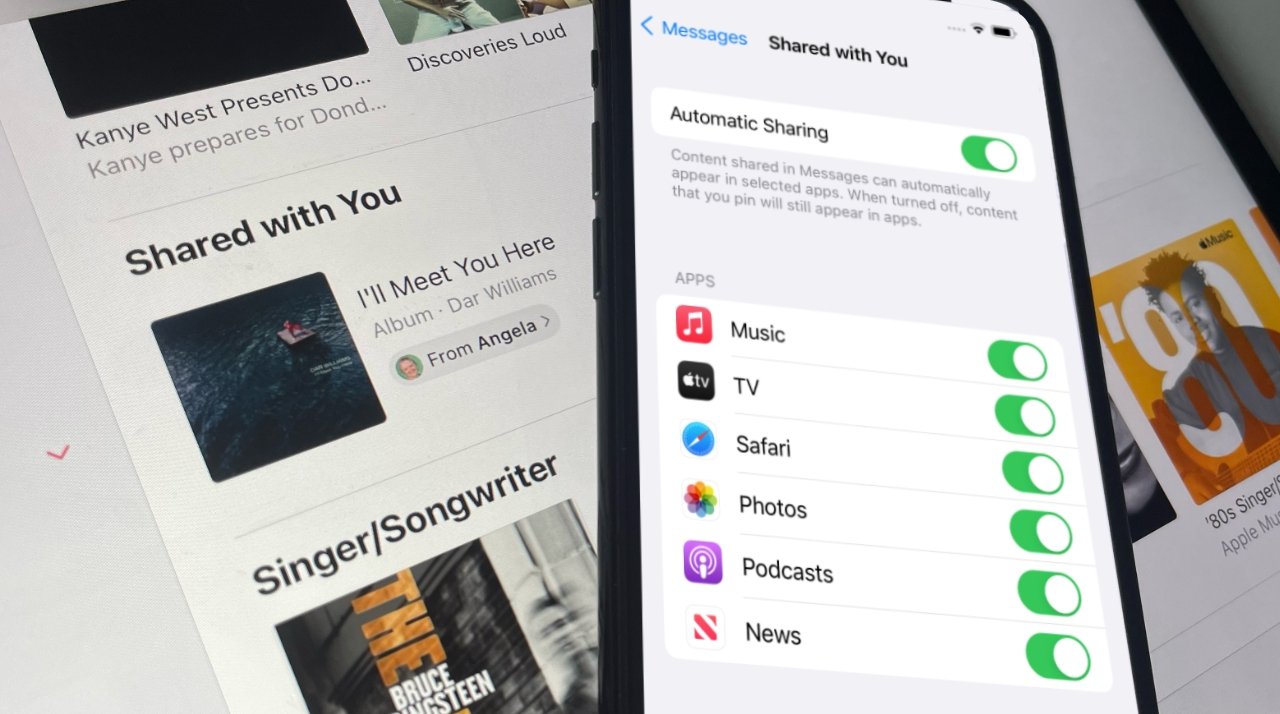 The new Shared with You feature in iOS 15 is a time saver, and a convenience, but only when you know what it sets out to do.
Shared with You is touted as a new feature of Messages in iOS 15 — plus iPadOS 15, macOS Monterey — and of course this is true. However, if you go exploring in the Messages app, you're not going to find anything.
It's possible that you won't find evidence of Shared with You anywhere. During the beta process, at times Shared with You would seemingly default to being turned off.That will probably change by the time iOS 15 is officially released because it's another feature where having it default to on is either helpful, or not noticeable. It doesn't get in your way if you don't happen to want it.
Nonetheless, whether it's switched off by default or by you, to use Shared with You, you have to turn it on.
How to turn on Shared with You
Open Settings on your iPhone

Scroll down and select Messages

Tap on Shared with You

Set Automatic Sharing to On
There are other options in this section of Settings, options for fine-tuning what is and isn't shared with you. But for the moment, just turning it on is enough.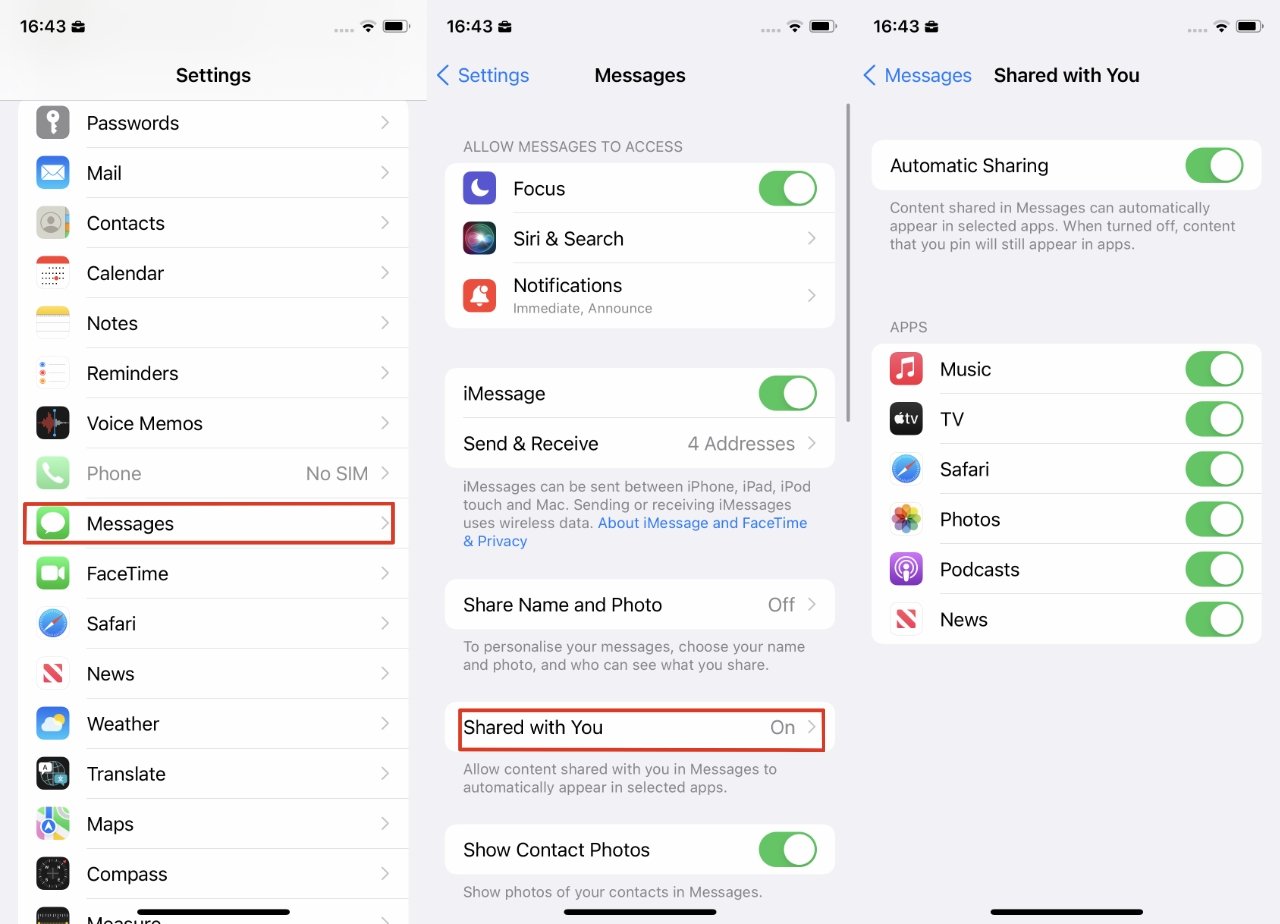 It should be on default, but sometimes Shared with You is off.
What happens next and what you have to do
You don't have to do anything, and the people who send you Messages don't have to do anything new. The next time they send you a link over Messages to something — a website, an Apple Music track, and more — you will see it the same way you always did.
That shared link appears in your Messages thread and it stays there. But it also goes into a Shared with You list in the app that is best able to do something with it.
So if it is a website link you've been sent, it's going to be handed off to Safari. If it's music, it'll be in Apple Music, and so on.
Where to find Safari items that have been Shared with You
In Safari, swipe to bring up the bottom control bar. Then tap on the address of the site that appears.
Safari highlights the site's address, and you don't care. In iOS 15, as soon as Safari brings up the address bar to type in, it also shows you a list of options such as your Favorites, and Frequently Visited.
Scroll down below those two and you'll see a new Shared with You heading. It will then show you thumbnail images for up to four websites whose links have been sent to you.
And it will include a Show All button. If you tap that, it opens up the list of four to however many sites have been shared with you.
Tap on any of them to go to that site. Note that the site remains in the Shared with You list.
To remove it, press and hold on the site's thumbnail. Then choose Remove Link.
Where to find shared Music, TV, and podcasts
It's the same for every app that's able to use Shared with You. The item being shared comes in via Messages, and then gets listed in a Shared with You list within the appropriate app.
With Apple Music, for instance, you can find the Shared with You list by tapping on the Listen Now button, then scrolling down to the Shared with You playlist.
Since you do have to scroll, since these items aren't in your face whenever you use the app, it's typically going to be fine to leave Shared with You on all the time.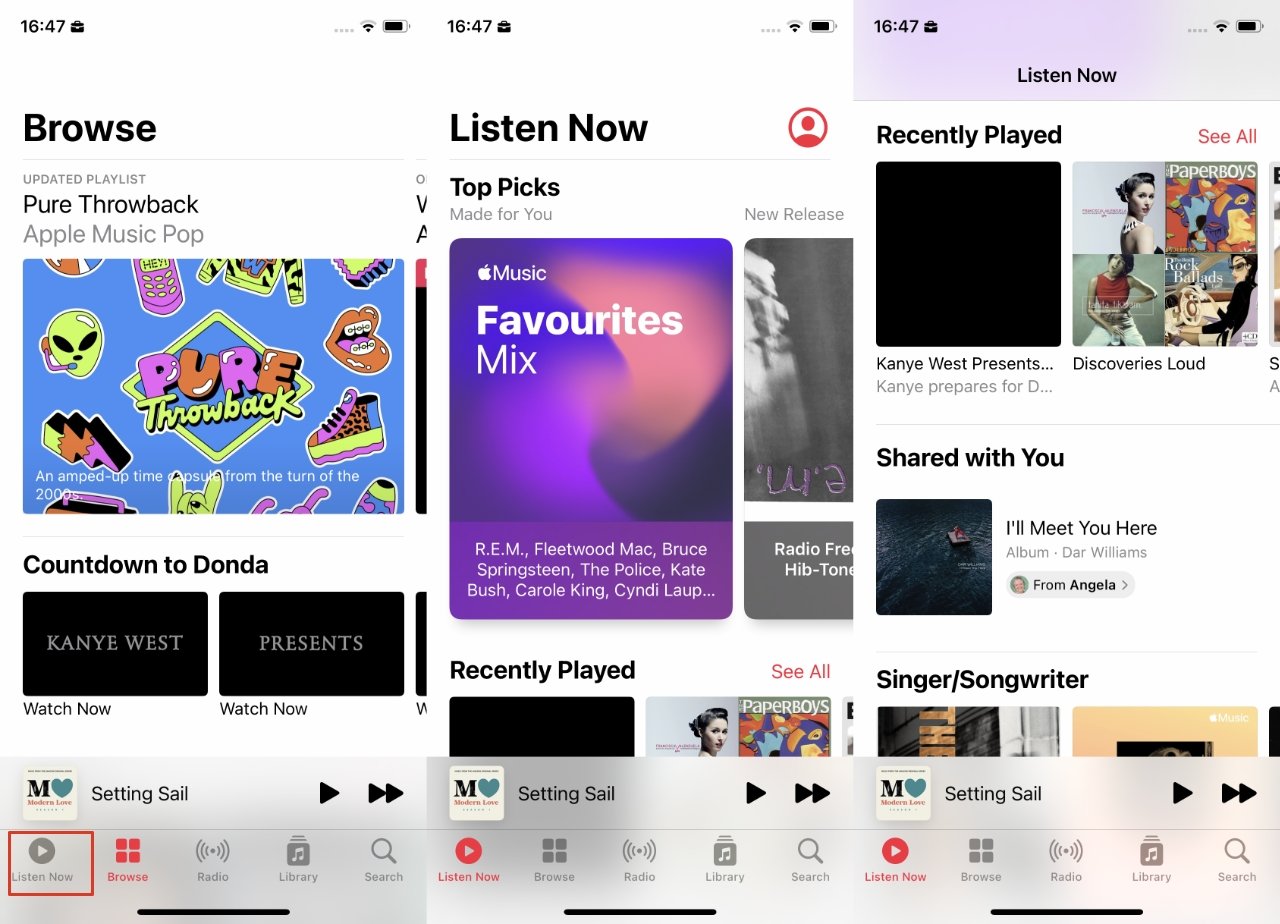 In Music, go to Listen Now and then scroll down to find the new Shared with You list
If it is more intrusive than you'd like, though, you can switch it all off by going to Settings, Messages, Shared with You, and tapping it to off.
Or if it's just that there's one person in your office who keeps sending "funny" images, you can keep Shared with You on — but chose not to allow it for photos. You can fine-tune your preferences, to an extent.
How to customize your Shared with You options in OS 15
Go to Settings, Messages

Choose Shared with You

Turn off any types of item you don't want
This is nothing to do with preventing hilarious photos arriving in Messages. It is everything to do with keeping those out of your Photos app, and so on.
Items that can be shared in a Shared with You list in iOS 15
Music

TV

Safari

Photos

Podcasts

News
Turn any or all of them off, or on. This feature doesn't give you any more granular control, it stops all photos, say. And when everyone is talking about how great the latest cat escapade photo is, you can still find it in Messages.
You'll just have to scroll around all the conversations to track it down. The benefit of Shared with You is that these items are at your fingertip in the moment you're using an app that can play them.
But it does also tell you who shared them. So you can always know who to thank. Or not.
Source: Appleinsider