How to Use IPA Signature?
For apps that cannot be put on the App Store, they can be signed with a certificate or signed with an Apple ID and installed on the device normally.
Prepare the certificate or Apple ID and the IPA file that needs to be signed, and you can quickly complete the signature using 3uTools.
Use certificate signature: Applicable to a self-purchased certificate for signing, the validity period of the signature is 1 year.
Sign with Apple ID: Applicable for developers or ordinary users to sign with Apple ID for free, and the signature is valid for 7 days.
Click here to view the FAQ of IPA signature function
Use the certificate signing method:
Open "IPA Signature" in the "Toolbox" of 3uTools;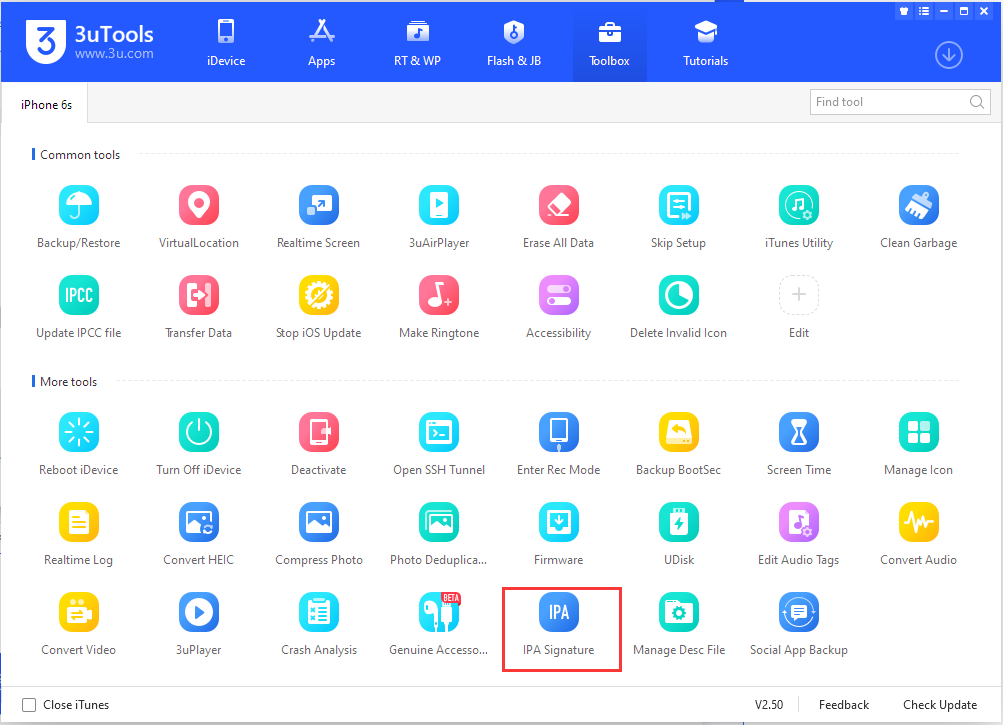 Click "Add IPA File" to select the IPA file that needs to be signed;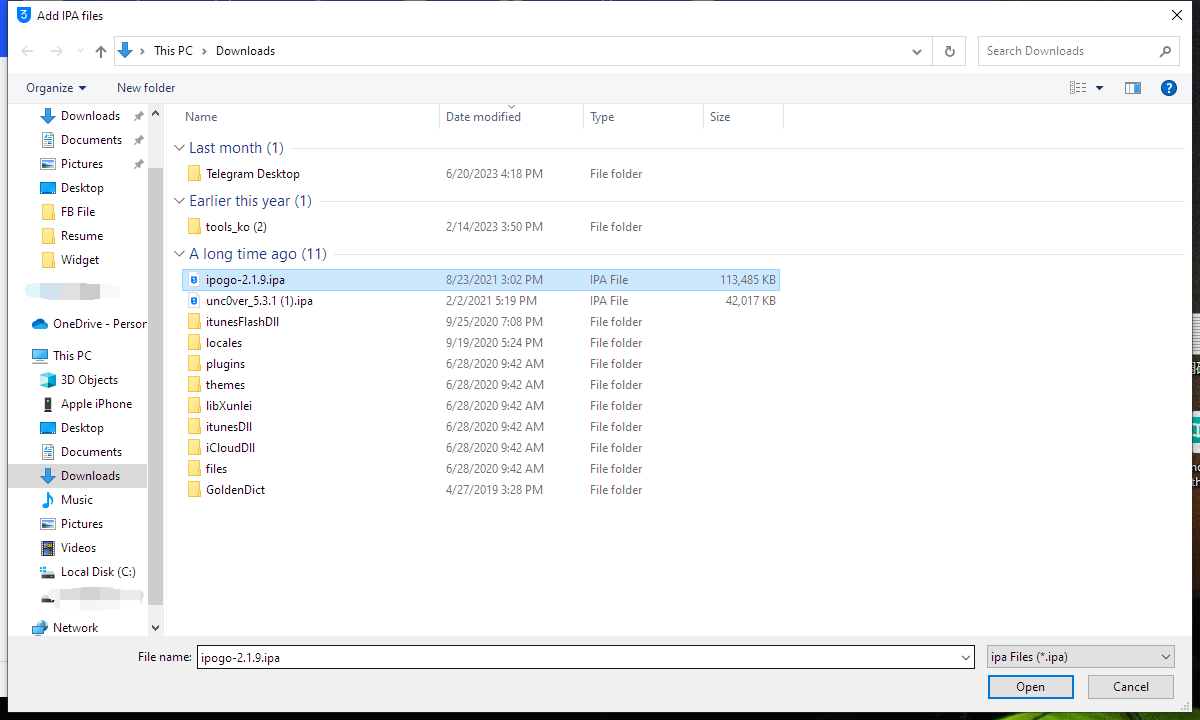 Click "Import Certificate" to select the certificate and description file for signing, and enter the certificate password after adding;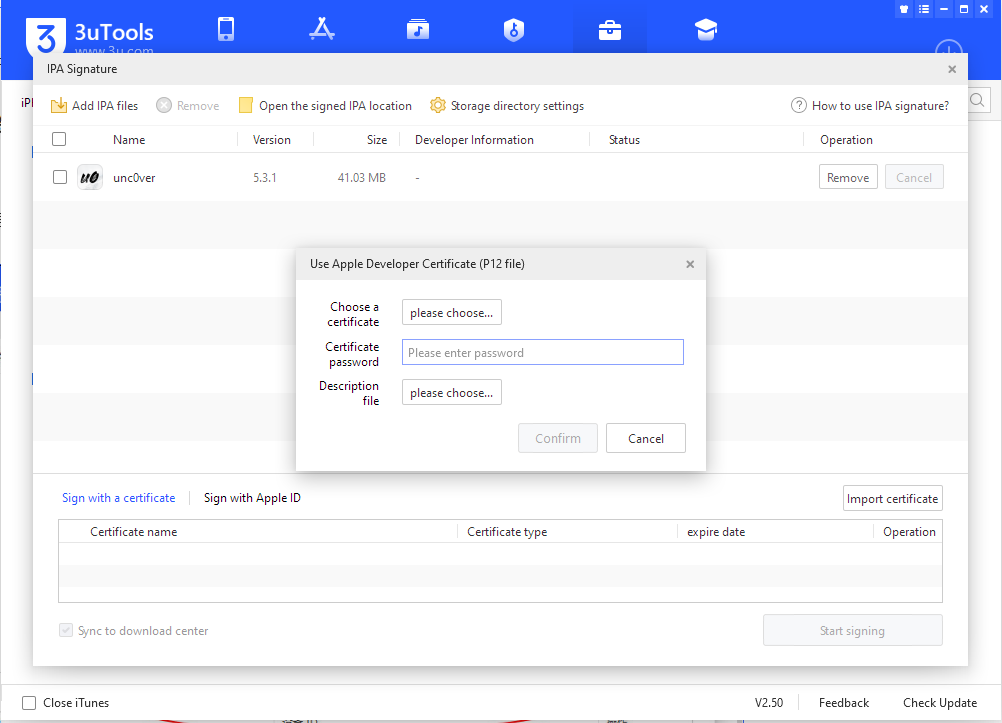 After adding all IPA files and certificate files, you can choose the file save path after signing according to your own needs;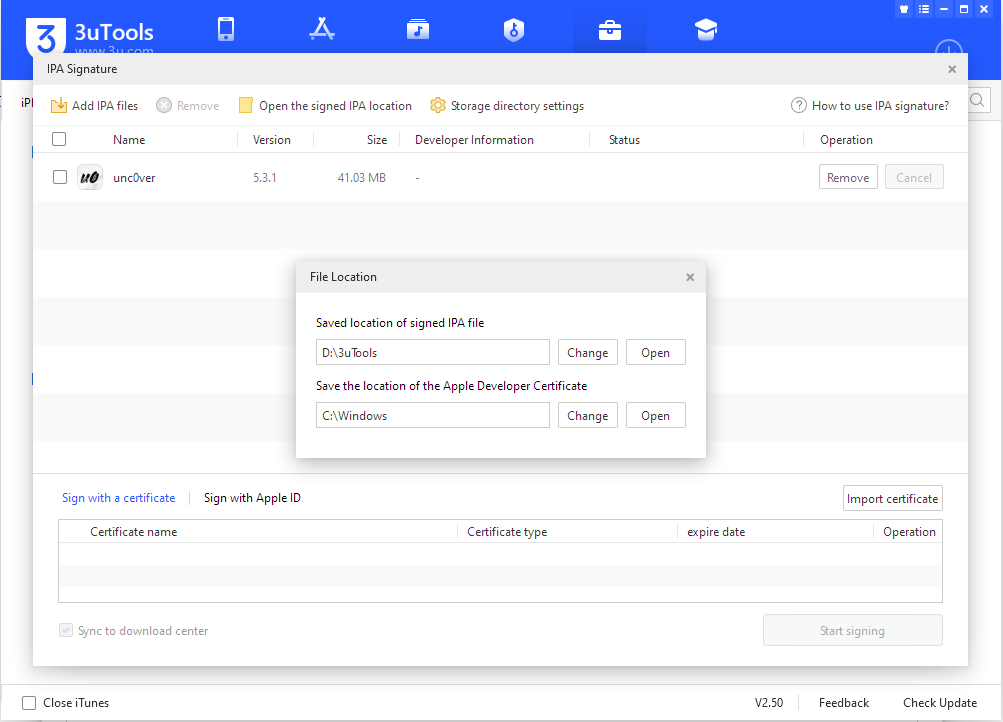 Check the IPA file and certificate for signing and click "Start Signing".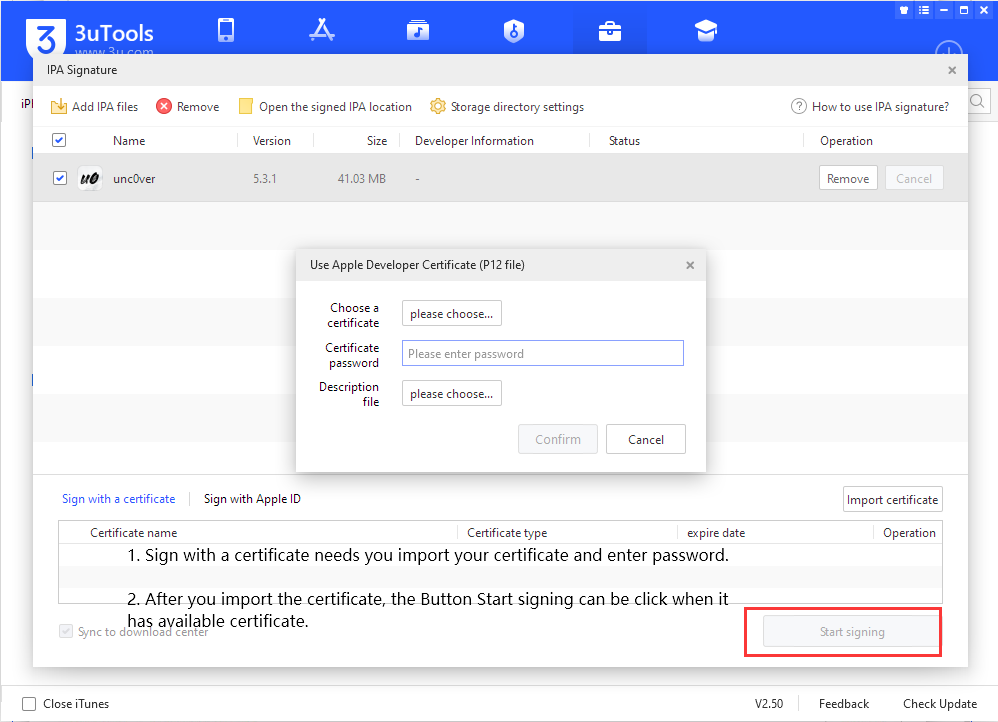 If you don't have a certificate file, you can sign with Apple ID by following the steps below.
Select "Sign with Apple ID-Add Apple ID", then enter the Apple ID and password for signing, and select or enter the device identification of the corresponding device (refers to the device to be installed on the IPA file after signing);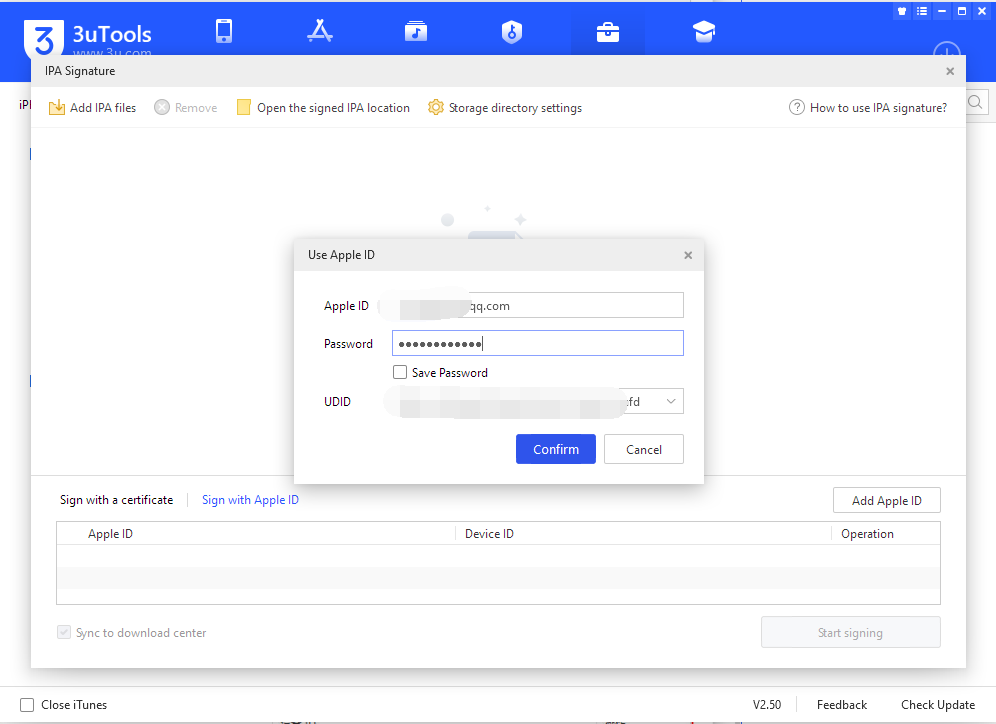 Click "Confirm" after checking. It is recommended to connect the iOS device to 3uTools before the operation and ensure that the "device identification(UDID)" can be readout. If the device is not connected, you need to manually enter the device identification. After the Apple ID is added, the signature information will be displayed in the list below;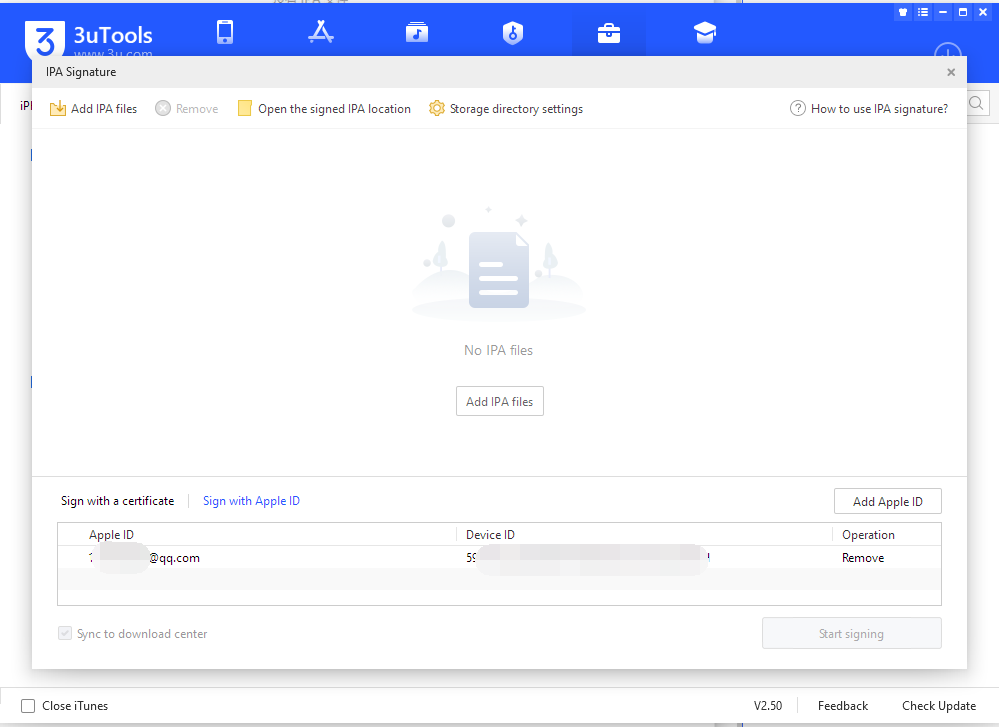 After that, add the IPA file that needs to be signed, check the IPA file and the Apple ID used for signing, and click "Start Signing". After the signing is successful, you can install the application through the 3uTools. After installation, remember to trust the application in "Settings-General-Profile" before opening it on the iOS device for the first time.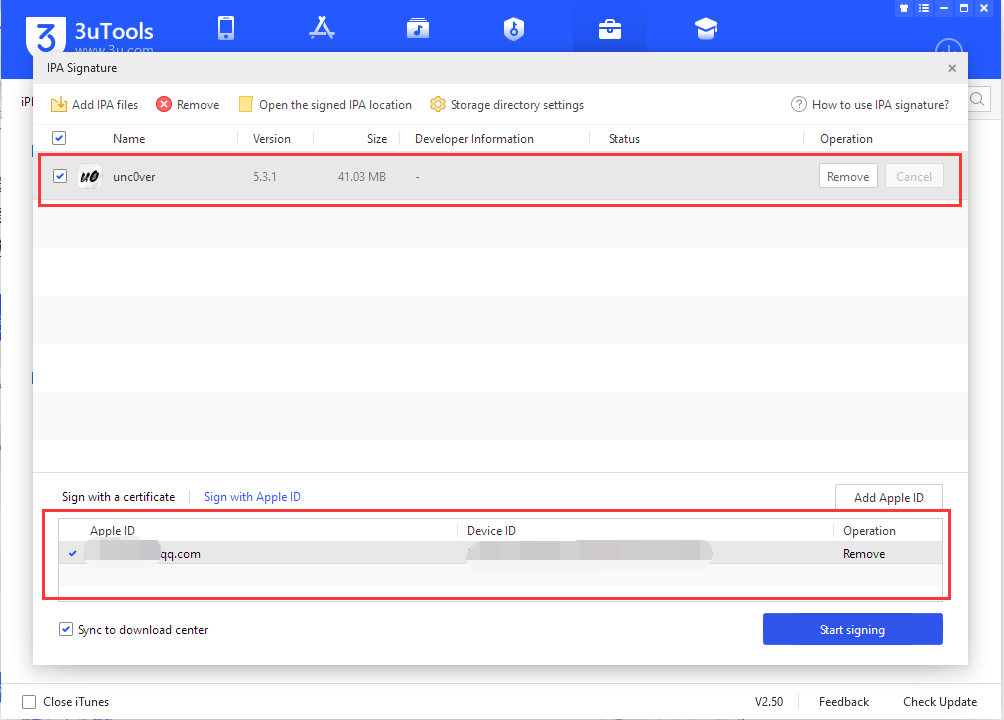 Please note that the saved path of the signed IPA file and the original file may be different.
After signing, you should click the "Open Signed IPA Location" button. The signed IPA files that can be used for installation are all stored in this directory.