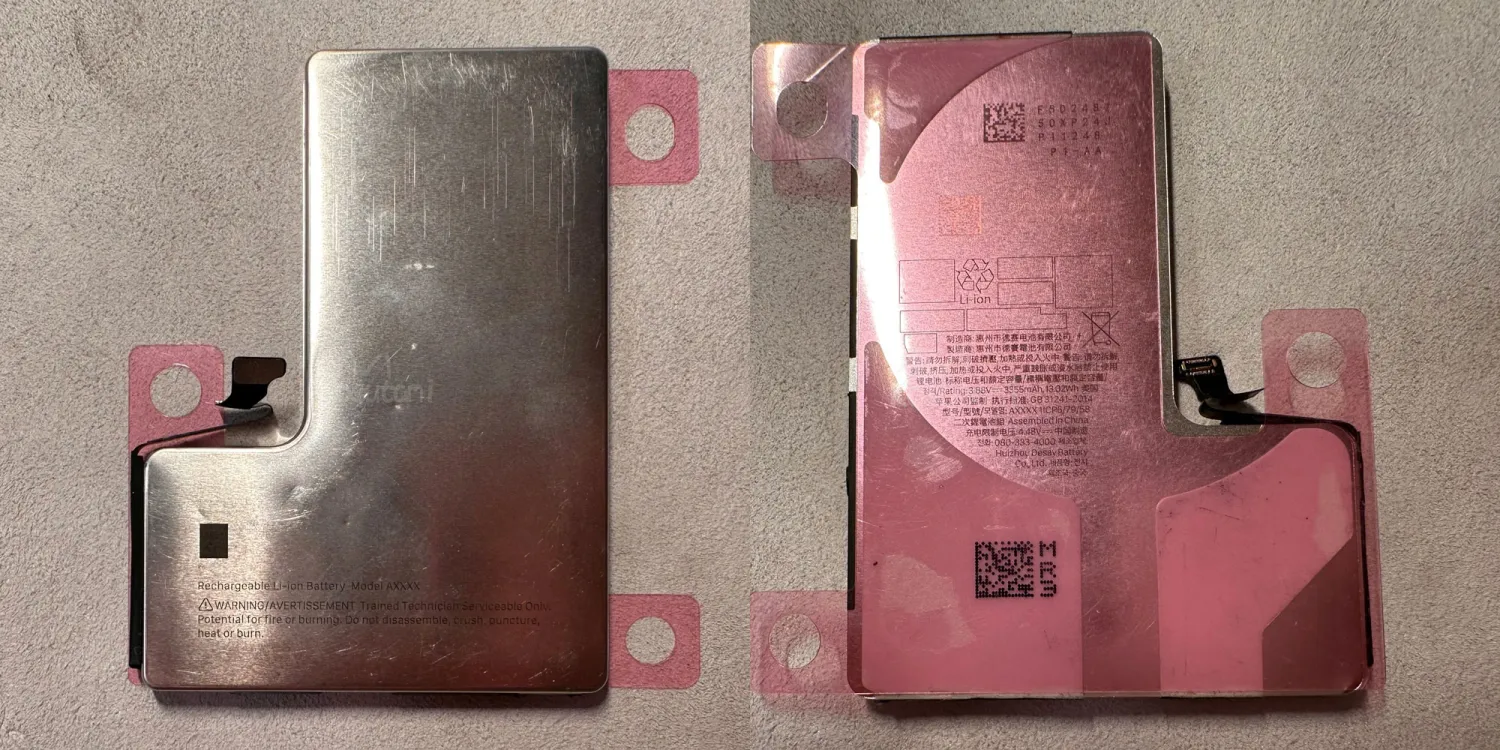 A few weeks ago, a report revealed that Apple has been developing new battery technologies to increase the battery life of its products. However, this technology is not expected to be ready any time soon. In the meantime, it seems that Apple will adopt a new battery design with a metal shell for the iPhone 16 Pro.
Apple working on new battery design for iPhone 16 Pro
In a photo shared by Kosutami on X (formerly Twitter), we get a first look at the component rumored to be part of next year's iPhones. According to Kosutami, the leaked battery is an "early stage" prototype designed for the iPhone 16 Pro. It has a capacity of 3,355mAh, not much more than the 3,274mAh battery in the iPhone 15 Pro.
The leaked battery has the same L-shaped design that Apple uses in its iPhone batteries. However, unlike any other iPhone battery, this one is covered by a metal shell instead of the traditional foil covering.
Since we're a year away from the announcement of the iPhone 16, Apple may scrap its plans and reuse the same battery design as the current iPhone generations. However, if the prototype is real and the new battery passes the tests, we may see significant improvements when it comes to heat dissipation.
A metal shell would help better distribute the heat rather than concentrating it. With the iPhone 15 Pro, Apple faced many complaints about devices overheating for no reason, so the company is likely working on improved thermals for the next iPhone.
It's worth noting that Kosutami has a good track record of leaking Apple-related stuff. In September, Kosutami shared photos of the new Apple Watch FineWoven band ahead of Apple's event. The leaker also showed images of a prototype HomePod with an LCD screen, which was later corroborated by 9to5Mac's sources.
Battery of early stage iPhone 16 Pro Proto
Features glossy metal shell, 3355mAh Capacity(13.02Wh), LCV 4.48V(Limited Charge Voltage)
Current stage prototype has changed some design: from glossy surface to frosted metal shell, and with a redesigned
connector#Apple #appleinternal pic.twitter.com/QvguZ7CrtL
— Kosutami (@KosutamiSan) November 20, 2023
More about iPhone 16 Pro
iPhone 16 Pro and iPhone 16 Pro Max are rumored to come in larger screen sizes than the current models. There are also rumors about both phones getting a better ultra-wide lens, faster 5G, and Wi-Fi 7. The regular iPhone 16 Pro is expected to feature the tetraprism lens for better optical zoom from the iPhone 15 Pro Max.
Source: 9to5mac