Apple is preparing to begin supporting digital car keys in the Wallet app for certain MINI vehicles, allowing owners to lock, unlock, and start their vehicles using a pass stored in the Wallet app on the iPhone or Apple Watch.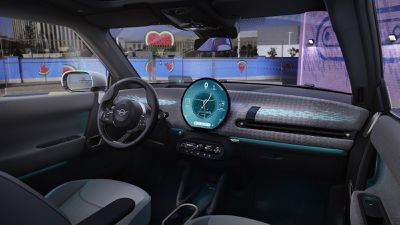 MINI's parent company BMW was the first manufacturer to launch digital car keys in Wallet back in 2020, but it wasn't until earlier today that Apple Pay configuration files were updated to specifically list MINI among supported brands, as spotted by MacRumors contributor Aaron Perris.
Several months ago, MINI unveiled its next-generation MINI Operating System 9, which includes MINI Digital Key Plus. The feature will support Ultra Wideband on both iOS and Android, allowing the user to access the vehicle without having to remove their phone from their pocket or bag.
MINI Operating System 9 will run on the auto industry's first large circular OLED display known as the MINI Interaction Unit, a customizable 9.4-inch screen mounted prominently in the center of the dashboard with colorful and immersive themes available to help personalize the vehicle.
The new MINI Interaction Unit with MINI Operating System 9 and MINI Digital Key Plus recently debuted in the new all-electric MINI Cooper and MINI Countryman, with both vehicles launching next year.
Source: Macrumors