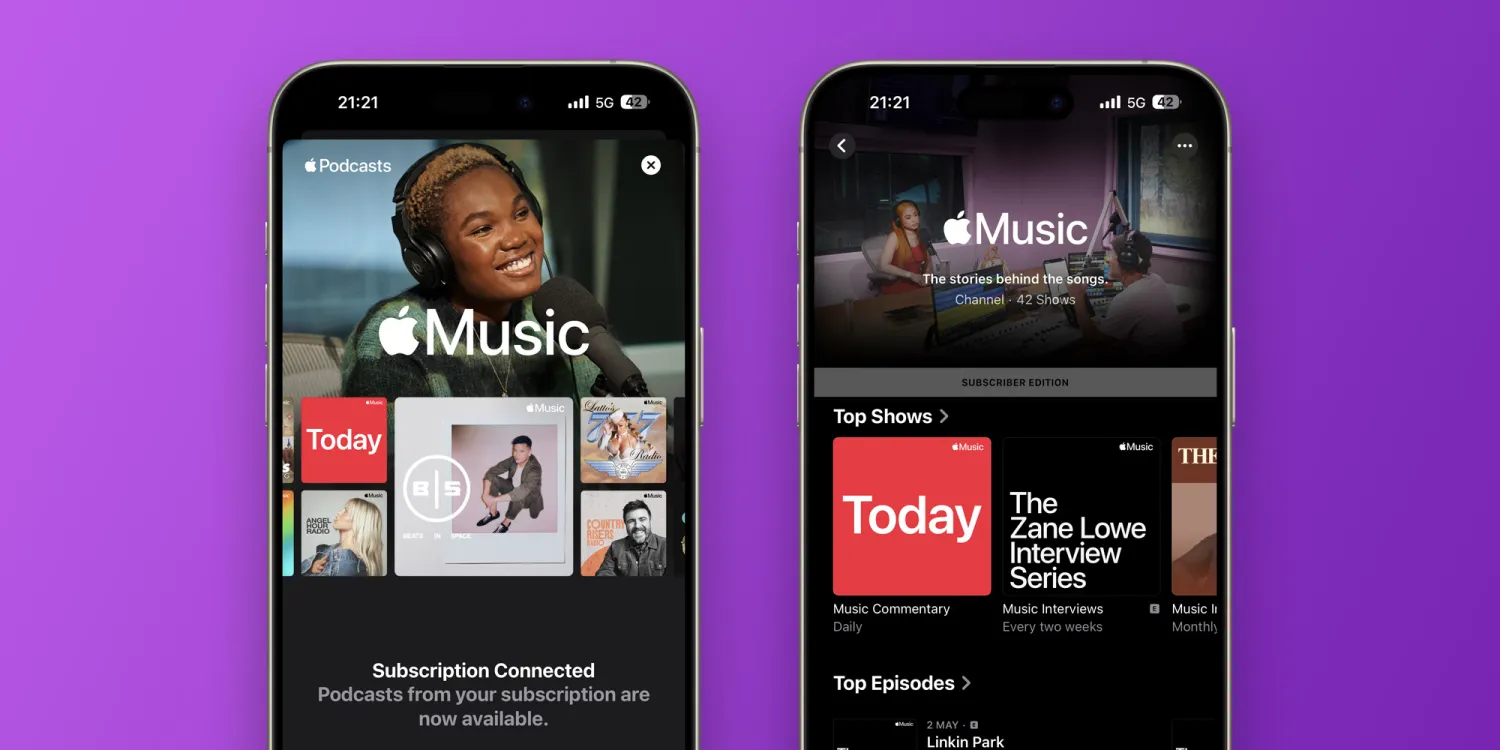 With iOS 17, Apple has introduced a new interface for its Podcasts app, which now has a new Now Playing screen, as well as more search filters and a better Up Next experience. The company also announced that third-party apps can now connect an App Store subscription to Podcasts. To take advantage of this, Apple Music radio shows are now available in the Apple Podcasts app.
Apple Podcasts now features Apple Music radio shows
Although paid podcast subscriptions already existed before iOS 17, creators had to launch a separate subscription for Apple Podcasts. The new API allows third-party apps to integrate subscriptions with Apple Podcasts. For example, a subscription-based app can provide exclusive podcasts via Apple Podcasts to its paying users.
And to show what's possible with this new API, Apple is integrating the Apple Music subscription with Podcasts. Starting today, those with a valid Apple Music subscription will find all Apple Music original radio shows within Apple Podcasts.
"Subscribers will be able to listen to the entire catalog of award-winning, commercial-free Apple Music radio shows in Apple Podcasts, where they can follow individual shows to automatically download and be notified of new episodes as soon as they're released," Apple explained in a press release earlier this year when the feature was announced.
Since Apple Music has a lot of different original live shows, some users may prefer to find them later in a podcast format. Among the shows available are Apple Music Today, The Zane Lowe Interview Series, The Message with Ebro Darden, Proud Radio, and HYPED.
In addition to Apple Music radio shows, users will also find Apple News+ content in the Podcasts app (this, of course, requires an Apple News+ subscription).
In order to find podcasts from your app subscriptions, open the Podcasts app, tap on the Library tab, and then choose the Channels option. You'll see a list of your apps that offer podcasts as part of a subscription.
Source: 9to5mac