The periscope camera lens that will be exclusive to the iPhone 15 Pro Max will be solely supplied by Largan, according to the latest note by Apple industry analyst Ming-Chi Kuo.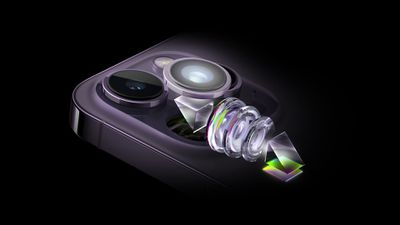 Rumors about the iPhone getting a periscope lens have been circulating since early 2020, when Kuo first mentioned the possibility. The analyst originally said that a periscope lens would be an iPhone 14 Pro feature, but that never happened. Since then, Kuo has maintained that the lens type will exclusively debut in the iPhone 15 Pro Max, a prediction that analyst Jeff Pu has also made.

In a periscope system, light entering the telephoto lens is reflected by an angled mirror towards the camera's image sensor. The change in direction in which the light travels allows for a longer "folded" telephoto setup inside phones, enabling users to zoom in further without any blurriness.
Kuo's latest note is contextualized in terms of two risks that Apple camera lens suppliers face going forward: High inventory levels leading to a weaker-than-expected second quarter this year, and suppliers being unable to profit from periscope camera lenses.
According to Kuo, the average selling price for Largan's shipped periscope camera lenses is around $4 (including the prisms), which is notably lower than the market consensus of $4.50 to $5 or higher. Kuo claims that the $4 price means Largan cannot profit from the periscope camera lens.
Looking ahead, Kuo believes both iPhone 16 Pro models in 2024 will use the same or similar periscope lens as the one used in the ‌iPhone 15 Pro‌ Max, with Apple continuing its trend of setting apart standard and Pro models by reserving certain higher-end hardware features for the latter.
It is anticipated that Apple supplier Genius will start supplying periscope lenses for the iPhone 16, at which point the component's price will be even lower, negatively impacting lens suppliers, said Kuo.
Source: Macrumors