Here is the new iPhone X troubleshooting guide.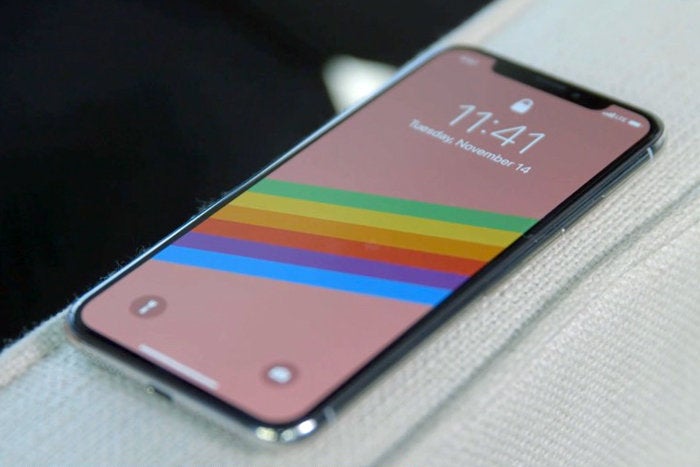 1. Force restart iPhone X
In many cases a force restart of an iPhone X will solve any problems you may meet, but because iPhone X lacks a Home button, you need to follow these steps to make this happen:
Press and quickly release the Volume Up button

Press and quickly release the Volume Down button

Press and hold the Side button until the Apple logo appears.
Whatever problem you encounter, always try a force restart first.
2. Try a reset
Sometimes you need to Reset your device. Open Settings>General>Reset. Choose Reset All Settings. This keeps your media and other files intact, but will require you to re-enter your passwords and Wi-Fi settings. (I often try Reset Network Settings first, as while it is annoying needing to re-enter Wi-Fi passwords and so on, this does seem to resolve problems I can't solve with a force restart.)
3. What to do if battery life seems low
The iPhone X delivers excellent battery life. However, some apps can impact battery life on your device.
To find out which apps are consuming the most power, open Settings>Battery and you will see a list of apps that tells you which ones are the greediest. You can then choose to prevent those apps updating in the background or from using mobile bandwidth, which should help extend battery life.
Battery life is also impacted by switching between different mobile coverage areas, for example: If you are in an area with a poor mobile signal your iPhone will keep polling for a fresh signal, impacting battery life.
Here are some steps that may improve battery life:
Adjust brightness to low

Turn off Location Services (Settings>Privacy>Location Services).

Turn off vibrate mode and notifications

Enable AirPlane mode

Switch on Settings>Battery>Low Power Mode.
4. Unresponsive display in cold
Some users note that the iPhone X becomes less responsive to touch when it is cold. Apple is aware of this and resolved the problem in the recent iOS 11.1.2 software update. Check which version of the iOS you are running in Settings>General>Software Update.
5. Green line appears on screen
A very small number of iPhones suffer from a problem in which a persistent green line may appear on the left or right side of the screen. This line appears after some time using the device. Apple is aware of this problem and if your iPhone X is affected you should contact Apple Support.
6. Crackling audio
There have been some claims that some iPhones emit a cracking noise when using the speaker at high volume. This problem seems to affect a very small number of devices. Apple is looking into this problem. NB: A similar problem with iPhone 8 was resolved with a software patch. If you are impacted, contact Apple Support.
7. iMessage problems?
If you are having problem sending or receiving Messages on iPhone X, try these troubleshooting steps.
Turn it off and on again: Open Settings>Messages and toggle iMessages to off. Wait ten seconds and turn it on again. This often resolves problems, I see it as giving the system a gentle kick.
Sign out everywhere:
If that fails then you may need to give the device a bigger kick. Return to Settings>Messages and choose Send & Receive.

Tap Apple ID and choose Sign out. You will need to repeat this on all your connected Apple devices (sorry about that).

Wait around ten seconds and choose the new Use your Apple ID for iMessages option to log your device(s) back in once again.
One of these steps usually resolves the problem, if it doesn't you may need to return your device to factory settings and restore from a backup.
8. How to force close an app
In some cases, you may need to force an app to close. You don't need to – leaving apps open in the background does not affect device performance, but there are times when you may need to close an app.
Swipe up and pause on iPhone X to enter the app carousel view

Swipe left or right to find the app that's causing problems

Swipe the app up to close it
9. What to do if an app keeps quitting, stops responding or stops opening
If an app quits intermittently, stops responding, working or otherwise seems flaky, first try forcing it to close following the steps above, then relaunch the app.
If this doesn't make a difference, try restarting your device, and check for iOS and app software updates.
If none of these steps resolve the problem you should delete and reinstall the app.
10. How to delete an app on iPhone X
(1) Long press and hold the app until all the app icons begin to wiggle.
(2) Press the X icon that appears on the icon of the app you wish to delete.
(3) Once you have deleted the app, tap 'Done' in the top right corner.
11. Blank screen in use?
If you find the screen remains blank when you raise the iPhone to your ear it is possible that dust has accumulated under the screen protector (if you use one). This may fool the device's proximity sensors, with the effect the iPhone doesn't know it should be active. One thing that may resolve this problem is to remove the screen protector.
12. Stop accidental emergency calls
iPhone X has a useful Emergency SOS feature called Auto Call. This feature is designed so that in the event you have an accident or other emergency and need to call help fast you can do so by holding down the side button and either volume button simultaneously for a few seconds. When you do this an emergency call will be placed automatically for you. It is possible to trigger this accidentally, if you do you will hear a loud countdown and get a few seconds in which to turn off the call. Alternatively, you can disable the feature in Settings>Emergency SOStoggle Auto Call to off.
13. How to reset your iPhone X to factory status
In order to install a backup, sell, or give away your iPhone X, and in some situations in which you have more serious problems you may need to return your iPhone to factory settings. Be warned, doing so will destroy all your data on that iPhone. There are two ways to do this, on the device using Settings, or when connected to a computer using iTunes:
Return to factory in Settings
Open Settings>General>Reset

Select Erase All Content and Settings

Enter your password, then tap Erase iPhone.
Return to factory using 3uTools
Connect the device to a computer and open 3uTools

Back up your iDevice.

Go to Easy Flash and select the available iOS firmware.

Do not select the option "Retain User's Data While Flashing"
Your iPhone will be returned to factory settings, after which you can set it up as new from a backup, manually, or sell the device. (In the latter case, you should log your device out of iCloud and Apple Pay before you restore).