Apple is expected to unveil three new iPhone models in 2018 – a successor to the iPhone X, a larger Plus version, and a more affordable LCD model with a similar, bezel-less design. Rumors about the three versions have been floating around since last year — about the designs, displays, cameras, and hardware of the phones — but it was only recently that we began hearing about some new colors.

Earlier this month, Rosenblatt analyst Jun Zhang claimed that Apple would differentiate the cheaper model by releasing it in a number of fresh color options, akin to the iPhone 5c:
"Since Apple start to launch three new models every year, we believe the company needs to differentiate the designs of the LCD model from the two high-end OLED models. One reasonable choice would be to add different colors."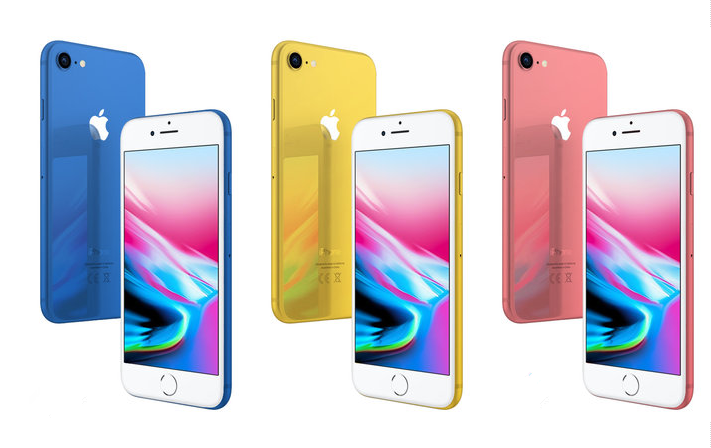 According to Zhang, the three color variants of the 2018 LCD iPhone model will come in blue, yellow, and pink. These are interesting choices, considering that Apple has thus far stuck with white, black, gray, gold, and rose gold for most of its smartphones and tablets, not counting the unapologetically plastic iPhone 5c, and the odd Product RED Edition over the years.
That said, Apple is no stranger to slapping more garish, lively colors on its products. Back when people actually cared about personal music players, Apple released iPod Nano and later Touch models in a an entire rainbow of color options, including the aforementioned blue, yellow, and pink. Of course, looking back at these devices now, with their not-so-premium aluminum builds and eye-gouging paint jobs, it's not too difficult to surmise that, if Apple is indeed going to release new iPhone color options this year, they won't be nearly as gaudy as what we've seen on iPods of years past.
If true, it's interesting to see Apple again opting to colorize its affordable lineup of iPhones. Seems like the more restrained, 'classy' colors are reserved only for the higher-end models. But either way, even the LCD iPhone model is rumored to feature a premium build with glass back for wireless charging, so it's likely going to look quite different from the plasticky 5c.
Disclaimer: The 2018 LCD iPhone model is rumored to adopt the bezel-less aesthetic of the iPhone X. As far as the back goes, however, it is said to remain mostly similar to the iPhone 8. These images only serve to offer a general look at what the rumored LCD iPhone may look like in blue, yellow, and pink, and are likely not representative of the phone's front design.
Source: phonearena