Apple unveiled the iPhone 8, iPhone 8 Plus and iPhone X at a media event earlier this month. Following the launch of the all-new line-up, searches like "iPhone slow" or "iPhone slowed down" skyrocketed, suggesting users had started to notice problems with their now-outdated hardware. But does Apple really hamper the performance of old iPhones when it announces new devices?
It happens every September.
Apple takes the wraps off its latest iPhone, which usually boasts better cameras, an improved display – and a new processor.
Ahead of the new iPhone models becoming available to buy in-store, Apple will release its new iOS update.
And without fail, current iPhone owners complain about "planned obsolescence" – the theory that Apple deliberately hampers the performance of older devices in an effort to drive people to upgrade.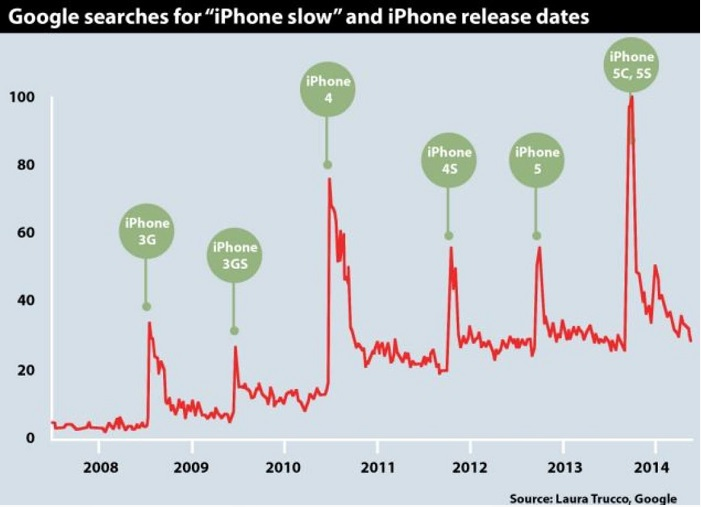 Search terms like "iPhone slow" or "iPhone slowed down" skyrocket in popularity in the days after the launch of the latest version of iOS.
This phenomenon was noted by a prominent Harvard study.
A petition pleading with Apple to not "push iOS 'upgrades' which sabotage older iPhones and iPads" has reached more than 330,000 signatures online.
According to the online petition, "Apple has been sabotaging devices for years with software 'upgrades' that slow every iPhone and iPad except the very latest model.
"It's a strategy called planned obsolescence, and its one of the ways that Apple and other gadget makers are getting so filthy rich while the planet and everyone else pays."
However, there is no proof Apple deliberately slows its older hardware following the launch of a new iPhone.
Granted, there is undoubtedly a high number of people who feel like their iPhone has slowed down since the latest iOS update, the Google Trends data proves that.
Source: express