Apple does not advertise battery capacities for its new iPhone 15 lineup, but MySmartPrice has obtained this information from a Chinese regulatory database.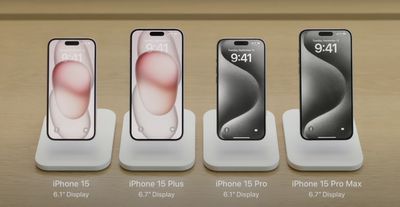 The Chinese regulatory listing reveals that the iPhone 15 has a 3,349mAh battery (rated capacity) and a wattage of 12.981Wh, while the iPhone 15 Pro has a 3,274mAh battery and a wattage of 12.70Wh.
Battery capacities for the full iPhone 15 lineup:
iPhone 15: 3,349mAh
iPhone 15 Plus: 4,383mAh
iPhone 15 Pro: 3,274mAh
iPhone 15 Pro Max: 4,422mAh
Battery capacities for the 2022 iPhone 14 lineup:
iPhone 14: 3,279 mAh
iPhone 14 Plus: 4,325 mAh
iPhone 14 Pro: 3,200 mAh
iPhone 14 Pro Max: 4,323 mAh
The same database accurately revealed battery capacities for all four iPhone 14 models ahead of those devices launching last year.
Despite the incremental increases shown above, Apple did not highlight any battery life improvements for its new iPhone 15 models compared to their direct predecessors, presumably because any difference is negligible in real-world usage. This comes contrary to a multitude of rumors prior to Apple's event, which suggested that the major efficiency improvements of the A17 Pro chip would bring battery life improvements.
According to Apple, the approximate battery life of each of iPhone 15 model is as follows:
iPhone 15: 20 hours
iPhone 15 Plus: 26 hours
iPhone 15 Pro: 23 hours
iPhone 15 Pro Max: 29 hours
This is exactly the same as the iPhone 14, iPhone 14 Plus, iPhone 14 Pro Max, and iPhone 14 Pro Max. Of course, it's possible that efficiency improvements may still result in slightly better real-world performance in Apple's latest models, but we won't know until third-party tests are available.
All four iPhone 15 models were announced by Apple earlier this week and will be available to pre-order on Friday. The devices are set to launch on September 22.
Source: Macrumors