There is now a "low" chance that the iPhone 16 Pro and iPhone 16 Pro Max will be equipped with solid-state volume and mute buttons, according to Jeff Pu, a tech analyst at Hong Kong-based investment firm Haitong International Securities. Pu shared this prediction in a research note today alongside some details about the more imminent iPhone 15 lineup.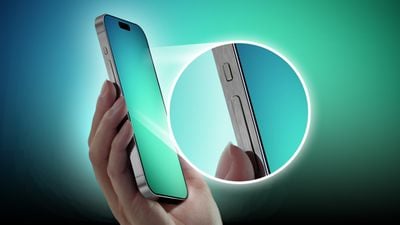 Solid-state buttons were initially rumored for iPhone 15 Pro models, but Apple reportedly faced "unresolved technical issues before mass production" and had to revert to mechanical buttons. Pu previously said the solid-state buttons would be postponed until iPhone 16 Pro models, but he now believes even those devices are unlikely to have them.

Apple supplier Cirrus Logic hinted at the solid-state buttons in a shareholder letter last year, but seemingly confirmed the plans were scrapped in May.
With a solid-state design, the buttons on the iPhone 15 Pro would not have moved when pressed. Instead, it was rumored that two additional Taptic Engines inside the iPhone would have provided haptic feedback to simulate the feeling of movement, similar to the Home button introduced with the iPhone 7 and the Force Touch trackpad on newer MacBooks.
iPhone 15 Pro models are still expected to feature a mechanical Action button in place of the Ring/Silent switch. It is likely that users will be able to assign the button to various system functions, such as Ring/Silent or Do Not Disturb.
With solid-state buttons now considered unlikely through 2024, it remains to be seen if Apple will ever move away from mechanical buttons on the iPhone. A benefit of solid-state buttons would be fewer moving parts that can break, and there is also potential for improved water resistance given there would be fewer points of ingress.
iPhone 16 Pro models are still over a year away from launching, so Apple's plans for the devices remain subject to change.
Source: Macrumors