The iPhone 15 Pro Max will have the thinnest bezels of any smartphone, beating the record currently held by the Xiaomi 13. That's according to the leaker known as "Ice Universe," who has divulged accurate information about Apple's plans in the past.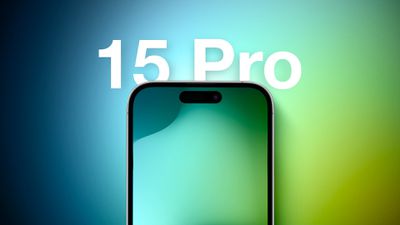 Both iPhone 15 Pro models are expected to have thinner, curved bezels compared to the iPhone 14 Pro, potentially resulting in an Apple Watch-like appearance, but if the leaker is correct, the larger 6.7-inch model will have the most minimal of bezels.

In a tweet, Ice Universe said the iPhone 15 Pro Max will "break the record" of 1.81mm bezels held by the Xiaomi 13, with Apple's upcoming model coming with a black bezel width of just 1.55mm. For comparison, Ice Universe gives measurements for bezels on the iPhone 14 Pro (2.17mm) and the Samsung Galaxy Ultra S23 (1.95mm).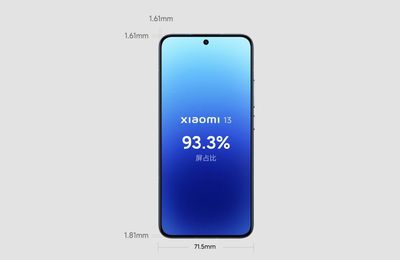 Screen-to-body ratio shown on display (Image: Xiaomi)
Ice Universe could be referring to the chin on the Xiaomi 13 or the leaker meant to say 1.61mm, as per the above image. We've contacted them for confirmation and will update if we hear back. Either way, the bezels on the iPhone 15 Pro Max are still said to be thinner.
According to rumors, the bezels on all four iPhone 15 models are expected to be slightly curved around the edges, similar to the iPhone 11 series, but the width of the bezels on the standard iPhone 15 and iPhone 15 Plus are not expected to diverge from those on iPhone 14 and iPhone 14 Plus. The iPhone 15 lineup is also expected to feature the same display sizes as last year's lineup.
With even thinner bezels around the display, the iPhone 15 Pro models could have a similar appearance as the Apple Watch Series 7 and Series 8. Rumors suggest the Pro models will also feature a titanium frame instead of stainless steel, and solid-state volume, mute, and power buttons that do not physically move when pressed.
iPhone 15 Pro Max will break the record of 1.81mm bezel black edge held by Xiaomi 13, and we measure that its cover plate black bezel width is only 1.55 mm.(S22 and S23 ≈1.95mm,iPhone 14 Pro 2.17mm) pic.twitter.com/9TBrVCGSCo — Ice universe (@UniverseIce) March 17, 2023

Ice Universe has previously shared CAD renders and dimensions that also suggest the iPhone 15 Pro Max will be unique in featuring a thinner camera bump and smaller footprint.
Apple is expected to announce its next iPhone lineup in September as usual. For the latest rumors, read our iPhone 15 and iPhone 15 Pro roundups.
Source: Macrumors